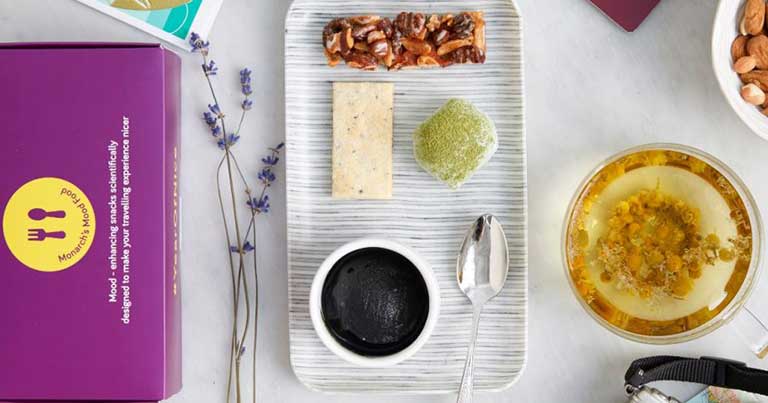 Monarch has launched a menu of mood-enhancing foods in an effort to "relax, re-energise and reduce the stresses of travellers".
The 'Monarch Mood Food' box was developed alongside leading food psychologist Professor Charles Spence, who has worked with famous chef Heston Blumenthal and his team at The Fat Duck Research Kitchen in the UK, and Josef Youssef, Head Chef at Kitchen Theory.
The menu has been designed to deliver a series of bespoke snacks created to suit different moments of a flight. It features ingredients specially selected to get travellers in the holiday mood, and enhance happiness, relaxation and wellbeing.
Prior to boarding, immunity boosting echinacea and liquorice ice cream is offered to help fight off symptoms of coughs and colds. At take-off, green tea and lavender mochi rice cakes are provided to help enhance relaxation, while around 30 minutes into the flight, travellers can enjoy a specially created Monarch blend of herbal tea containing chamomile, fennel seed and kelp, to help combat bloating and aid digestion. The tea is accompanied by a crunchy seaweed biscuit.
Finally, just before disembarkation, travellers can indulge in a sweet caramelised nut bar coated in umami rich mushroom and tomato powder to re-energise and awaken the senses.
The launch of the Monarch Mood Food menu follows recent research which revealed that over a third of Brits don't relax until at least day three of their holiday, and 72% find travelling to their holiday destination stressful.
The survey of 2,000 British holiday makers, commissioned as part of Monarch's 'Year of Nice' campaign, also found 39% of Brits cite the stresses of travelling as their biggest holiday mood killer, second only to bad weather (43%). The findings also showed that 52% of those surveyed find the airport to the most stressful part of their holiday, and 60% believe good food is most likely to lift their spirits when on annual leave.
Prof. Charles Spence commented: "Travelling is a time when we're under pressure and rushed, so eating well is often an afterthought. I've loved working with Monarch to use food – which can be a powerful psychological and physiological tool – to create the first ever real 'happy' meal to get travellers in the holiday mood as quickly as possible."