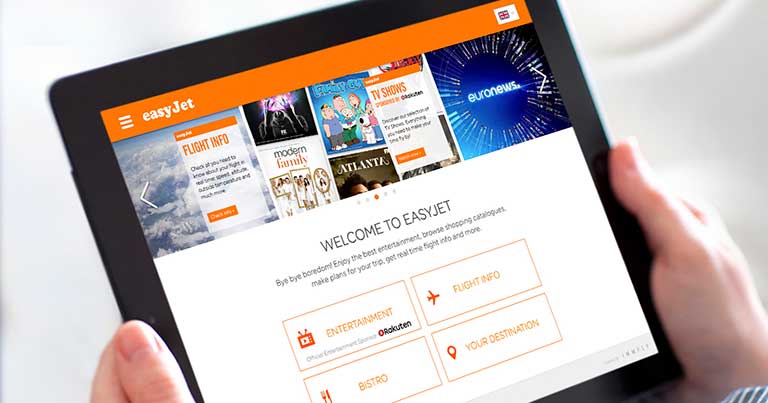 easyJet is preparing to launch a new wireless in-flight entertainment (IFE) service after agreeing a partnership with Immfly. The portal, which will be branded "Air Time", will go live on the first five easyJet aircraft this autumn.
Passengers will be able to use Air Time to watch content, access offers, and view flight and destination information using their own smartphones, tablets and laptops. They will also be able to access audiobooks and e-books, interactive maps, digital retail catalogues and language tutorials. Content will be available in multiple languages, including English, German, Spanish and Italian.
Rakuten, a Japanese digital content and e-commerce company, will be the official entertainment sponsor of easyJet's new IFE product.
Andrew Middleton, easyJet's Ancillary Revenue Director, said: "Air Time will allow us for the first time to offer customers in-flight entertainment in a way that replicates how they consume their media at home.
"We are delighted to be collaborating with other innovative partners, such as Rakuten who will help us curate engaging content, and Immfly who are providing the unique easyJet portal with a dedicated customer support team, ensuring that easyJet crew are able to continue conducting an excellent standard of safety-focused service and on-board hospitality."
Jimmy Martínez von Korff, co-founder of Immfly, which also works with the likes of Iberia Express, Volotea and XL Airways, explained: "We specialise in maximising revenue opportunities using wireless connectivity in-flight. We are leading the way in delivering on-board connectivity in a phased approach backed by positive business cases that make sense for our airline partners.
"We are enabling easyJet to deliver a compelling in-flight entertainment service, with exciting content and online shopping capabilities delivering a platform fully integrated with leading brands and their services."