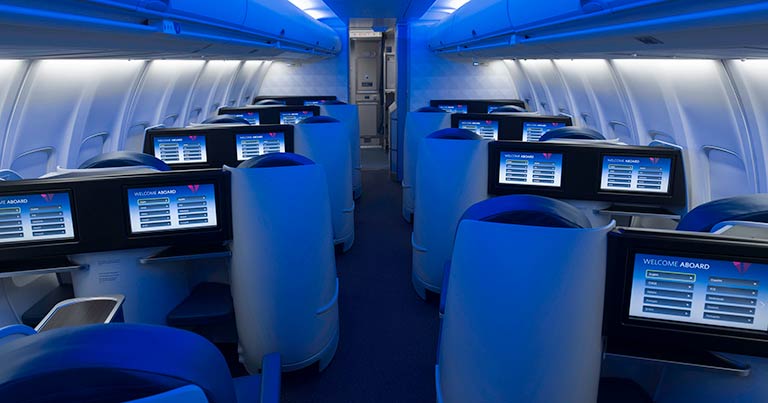 Delta Air Lines has announced that it will introduce its Delta One experience on more key domestic routes from 1 April 2018. The Delta One business class product will be launched on select flights between Boston and Los Angeles, and New York-JFK and both San Diego and Seattle.
On 1 May 2018, it will be introduced on select services between New York-JFK and Las Vegas. The carrier will also introduce Delta One on its daily flights between Atlanta and Honolulu, and Minneapolis and Honolulu from 1 April 2018.
The Delta One seat, which can be reclined to a 180-degree lie-flat bed, will be offered during strategic flight times on select routes as the airline works to establish when demand for the new business class experience is highest.
Delta already offers the product on the following routes: New York-JFK to/from Los Angeles and San Francisco; Boston to/from San Francisco; and Washington-Reagan to/from Los Angeles.
Also, starting 1 April 2018, Delta Sky Miles Medallion Members will be eligible for unlimited day-of-departure complimentary upgrades to the Delta One cabin on all domestic flights, including Hawaii.
Delta President Glen Hauenstein said: "Our domestic expansion of Delta One is all about responding to customers who have told us they want more opportunities to buy in to the premium experience that Delta One has quickly become known for.
"And while more customers are locking in their preferred experience by purchasing First Class or Delta One, we know how important complimentary upgrades are to our Medallion Members."