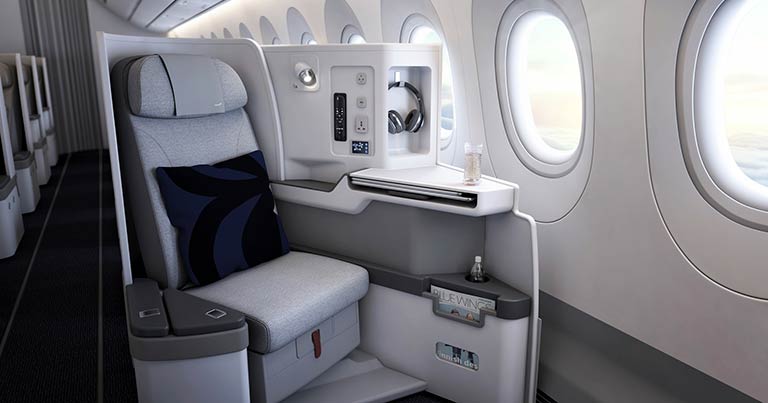 Finnair has unveiled its plans to refine its business class service. The new service concept will offer a wider range of dining options, which will be served on-demand at a passenger's preferred time.
The carrier is also introducing the classic Finnish tradition "Kahvikutsut" – a coffee served with seven different treats – for long-haul flights departing Asia in the morning. This coffee service will allow passengers to enjoy traditional Finnish treats like Carelian pies, cinnamon buns, coffee cake and traditional Finnish chocolates between the two meal services. 
"More than ever, our Business Class customers enjoy the opportunity to customise their travel and dining experience," said Piia Karhu, Senior Vice President of Customer Experience at Finnair.
"Our objective is to create an unspoken bond with our guests, every time they fly. We have dedicated cabin crew personnel for business class passengers, providing a more individual service, with the aim of setting new standards for comfort and overall wellbeing onboard Finnair flights."
Finnair's new business class service concept will commence as of February 7 2018 on flights to Seoul, Tokyo and Shanghai, with a gradual rollout of the remaining long-haul destinations during the spring and summer.
A350 cabin enhancements
The carrier has also revealed that it will introduce renewed textiles and Marimekko patterns throughout its new A350 aircraft. These will include new simple and stylish seat covers, plus pillows, blankets and chinaware with prints from the iconic Finnish design house Marimekko.
David Kondo, Head of Cabin Interior Development at Finnair, explained: "With Nordic-inspired design throughout the entire cabin, our aim is for our guests to be treated to a travel experience that soothes the senses and clears the mind. Our new seat textiles and comfort amenities have a fresh and modern aesthetic that is inspired by Nordic homes and landscapes."
These new interior elements will be rolled out on Finnair's Airbus A350 aircraft in phases during 2018.