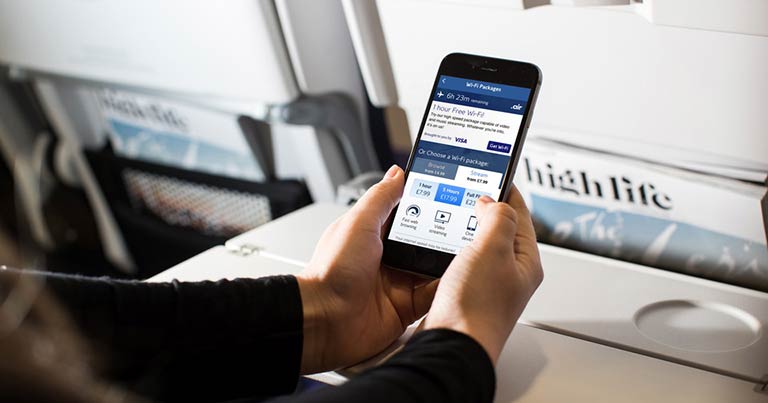 It wasn't long ago that inflight connectivity was seen by airlines as a big differentiator, especially on flights outside of the US where reliable connectivity services have not been as readily available. However, that is quickly changing as suppliers in this space continue to deliver improvements and high-quality connectivity becomes available across more of the globe. As the uptake of onboard connectivity continues to rise, Wi-Fi at 35,000 feet is becoming a "must have" for carriers and many of their customers.
The 2018 Wi-Fi Report by Routehappy (which was last week acquired by ATPCO) shows that 82 airlines around the world now offer inflight Wi-Fi – a 17% increase on 2017. Importantly, the quality of inflight connectivity is improving dramatically. In fact, there was a 129% year-on-year increase in the availability of what is termed "Best Wi-Fi"; essentially a Wi-Fi connection that can support advanced media streaming and is comparable to a home connection.
While many of the early adopters, particularly those in the United States, have embarked on system upgrades of late, many others have just taken their first steps into the world of connectivity. For instance, British Airways' first Wi-Fi equipped aircraft are now airborne and by 2019 the carrier expects to have 90% of its aircraft connected. During 2017, the likes of Air Astana, Air Côte d'Ivoire and Air Mauritius were among those that began offering Wi-Fi, while Qantas, Virgin Australia and Air New Zealand flicked the switch on their own connectivity services.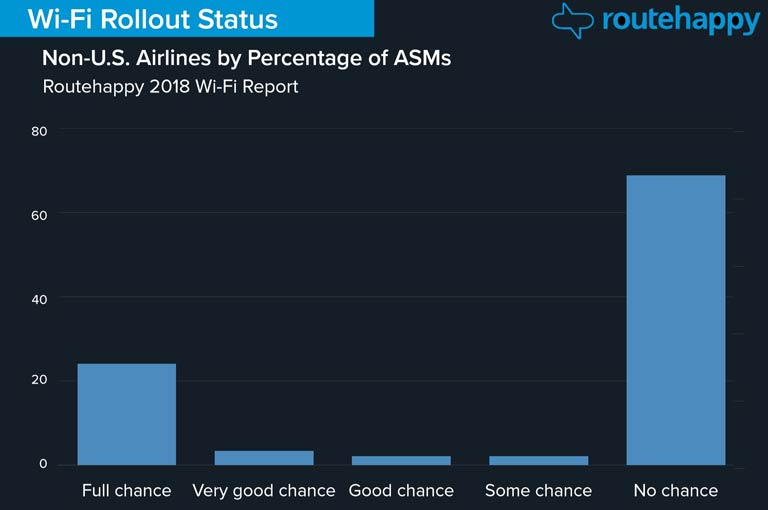 It is interesting to note that of the three airlines that offer Wi-Fi on 100% of their flights – Icelandair, Southwest and Virgin Atlantic – two are based in Europe. The number of European carriers offering connectivity could well increase in the coming months following Deutsche Telekom and Inmarsat's announcement on 5 February that the European Aviation Network (EAN) – a hybrid satellite and air-to-ground network for Europe – is now complete and will support commercial connectivity services "from H1 2018". All eyes will soon be on IAG – the parent company of Aer Lingus, British Airways, Iberia and Vueling – which is the sole confirmed customer to date.
Robert Albert, CEO of Routehappy, described 2017 as "another progressive year for in-flight Wi-Fi" and expects this trend to continue this year. "The 129% growth of Best Wi-Fi is extraordinary, it shows the commitment airlines are making to best in class systems and we expect to see this number increase even more in 2018."
APEX Connectivity Survey
The Airline Passenger Experience Association (APEX) also revealed the findings of its own Connectivity Survey at APEX TECH last week. Among the multitude of insightful findings from the exclusive members-only report was that airlines are adopting inflight connectivity equally for service enhancements and product differentiation. It also found that the majority of airlines (83%) and vendors (67%) believe that current connectivity service options are not yet able to satisfy all of airlines' key objectives for inflight passenger connectivity, engagement, services and all other desired outcomes, but they expect this to change soon.
Following the release of the report, APEX CEO Joe Leader shared with FTE his connectivity-related expectations for the remainder of the year. "APEX believes that inflight connectivity will hit 50% of available seat miles (ASMs) worldwide by the end of 2018," he stated. "That means that airlines implementing after that point will be in the late half of the adoption cycle. Connectivity worldwide has gone from a nice to have to a need to have on both long-range and mid-range flights."
Inflight Wi-Fi – a profit-making mechanism?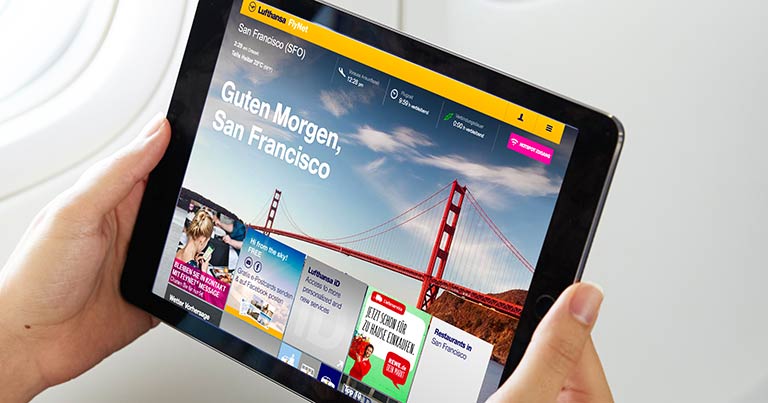 The increase in the number of connectivity-equipped aircraft is good news for passengers who are increasingly likely to be able to stay connected during every stage of their travel experience. There are many benefits for airlines, too.
An analysis of SITA's 2017 Air Transport IT Trends Insights research found that a combined 31% of airlines cited operational benefits across maintenance and aircraft health monitoring, cockpit and cabin as the chief advantages of the connected aircraft. This compares to 43% that pinpointed enhancing the passenger experience as the biggest perceived benefit.
Then, of course, you have the potential ancillary revenue advantages. A recent study released by London School of Economics and Political Science (LSE) in association with Inmarsat forecasted that by 2035 airlines could generate $15.9 billion from broadband access charges, $6.8 billion from broadband-enabled e-commerce, $6 billion from broadband-enabled advertising, and $1.4 billion from broadband-enabled premium content. Clearly, if airlines get this right, inflight connectivity could help to transform their finances.
Making the right inflight connectivity decisions is easier said than done, though, especially for those yet to make their first investments in this space. "For airlines taking their first step into connectivity, act now and act quickly," was Leader's advice. "There remains an opportunity to leverage late entry as a market advantage by utilising high-speed connectivity. For low-cost carriers and regional aircraft, there are solutions for near-fi and high ROI deployment that will meet the needs on the immediate horizon. Passengers view connectivity as a baseline need that must be met to reach expectations."
While more than 80 carriers already offer some form of inflight connectivity, dozens more are either tentatively exploring the marketplace or preparing for their own near to medium term rollouts. With a variety of products on the market, it is vitally important that airlines make the right connectivity decisions both for today and for the years ahead.
Note: If you would like to view the full findings of the APEX Connectivity Survey, which is exclusively available to APEX members, please visit this page.