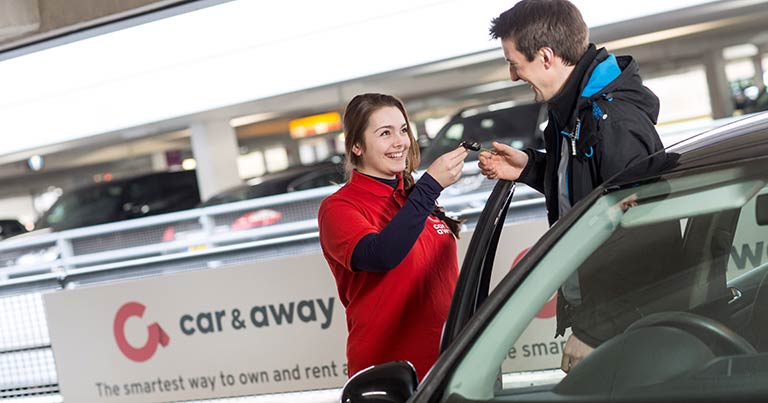 Gatwick Airport – an FTE Startup Hub Corporate Partner – has become the first UK airport to host a new peer-to-peer car rental scheme, which allows people to rent out their vehicles to others while they are away travelling.
Following a successful trial period, the airport is partnering with startup Car & Away to provide a new 'Rent & Earn' service for passengers, alongside other existing long stay parking options at Gatwick.
Upon registering for the service via the Gatwick parking website the vehicle owner is provided with information about Car & Away's qualifying criteria and the renting process. Their vehicle will also receive a mini valet service, irrespective of whether it is booked for hire while parked at the airport.
Renters can find Car & Away's available vehicles via the company's partner, Rentalcars.com, when searching for rental cars from Gatwick. Once a suitable match has been found, the vehicle is available for collection from dedicated Car & Away parking bays, located in the valet arrivals area of the South Terminal.
Small vehicle owners can expect to earn up to £80 per week in rental income, while owners of larger cars can expect to earn up to twice that amount. Car & Away also ensures all vehicles are fully insured, cleaned and meet RAC approved vehicle roadworthiness checks before being offered to renters. Octo Telematics systems are also installed to monitor the vehicle driving patterns.
Once the renter returns, the vehicle passes through the same checking processes and is waiting for the owner in the dedicated Car & Away parking bays upon their return from holiday.
Gatwick Airport's Head of Car Parking, Gary Wallace, said: "We are always searching for ways to provide new, innovative and ground breaking services so we are pleased to be hosting this exciting new scheme with Car & Away. The new service offers passengers an alternative option when it comes to renting vehicles from the airport and gives them a chance to offset their parking costs.
"Our goal is to help as many people as possible to travel for less, in a convenient way, and airport peer-to-peer car sharing services are another way of achieving this."
Andy Hibbert, Founder & CEO of Car & Away, which was recently selected to join the easyJet and Founders Factory startup accelerator programme, said: "We're all used to, and comfortable with, the sharing economy. Many of us share our homes via Airbnb and some even share their most personal of possessions – pets – via the likes of borrowmydoggy.com! So, sharing a car while people go away isn't such a big step. Especially when owners not only make money out of it, but benefit from dropping the car right next to the terminal and get a professional valet to boot.
"For renters we provide a great alternative service that saves time, money and provides you with the exact car you book – not a 'similar' one. Our early customer feedback really shows us why these things matter. When it comes to renting cars, together with our partners, we provide a service where everyone wins."