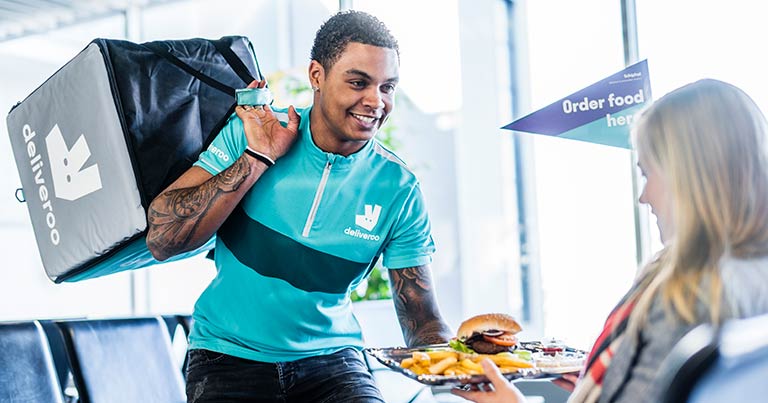 Schiphol, HMSHost International and Deliveroo have teamed up to launch a pilot in which passengers flying from Pier E can order food and drinks via their smartphones and have their order delivered to the departure gate within 15 minutes. The wide range of meal options can also be ordered as room service at the Mercure Hotel, which is located beyond passport control in Departure Lounge 3.
Passengers can order food and drinks via the Deliveroo app or website. The meals are prepared at Kebaya and at The Market, The Grill and The Oven located in the Street Food Market. Orders are delivered by scooter for a charge of €2.50.
Tanja Dik, Director of Consumer Products & Services at Amsterdam Airport Schiphol, said: "Schiphol is always looking for ways to best serve its passengers. This is an extra service that we would like to offer them. Passengers spend a relatively large amount of time at their gate. Although we of course have a diverse range of catering options in our piers, not everything is available. This initiative allows us to broaden the service we provide to our passengers."
Dik also stated that the initiative has a more practical side, as it can help Schiphol overcome the fact that space for additional catering outlets is limited.
"That's why we come up with innovative concepts like this and keep a close eye on trends in technological and digital developments," she said. "If we see opportunities, we'll then implement them in the hope that we can improve the passenger experience even further. We are very eager to hear our passengers' feedback."
While Schiphol is the first airport in Europe to partner with Deliveroo, it is not the first in the world to do so. In November 2017, Dubai International also announced a partnership with the food delivery service.