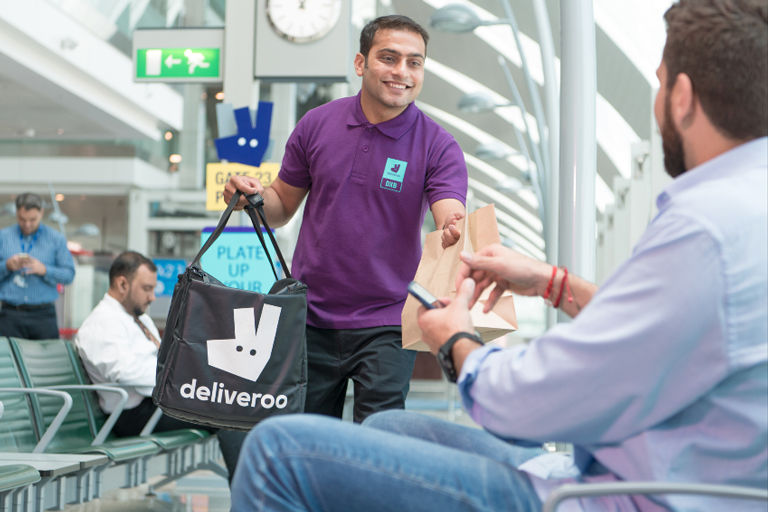 Dubai International Airport has partnered with Deliveroo, a global leader in premium food delivery, to launch the region's first airport delivery service.
The unique concept – named DeliverooDXB – is a customer-centric airport initiative that enables passengers to get freshly-prepared food delivered straight to their boarding gates within minutes of ordering. Passengers simply place an order on Deliveroo's app, website, or via the quick link on DXB's high-speed, unlimited free Wi-Fi service known as 'Wow-Fi'.
Following the successful launch of the programme in Dubai, Deliveroo will look to bring the service to other international hubs in the world.
Eugene Barry, Executive Vice President of Dubai Airports' Commercial and Communications Group, said: "DeliverooDXB is a truly ground-breaking service that brings an extra level of convenience to our customers. Our mission to completely reinvent the airport experience is rooted in implementing innovative concepts, as demonstrated by this partnership with the world's best food delivery brand. Now passengers can receive delicious food from our food & beverage outlets while they wait to board, all made possible by the expertise of Deliveroo and our world-beating Wow-Fi service."
Anis Harb, Deliveroo General Manager, GCC, added: "Deliveroo's mission is to provide the best food delivery experience in the world, and there is no reason why that should be limited to the home or office. Joining forces with Dubai Airports is a strategic next step for us as we continue to revolutionise the way people order restaurant food. With our riders now delivering to the gate, there is no reason to miss breakfast, lunch or dinner even when passengers may only have minutes to spare before boarding."
The launch of DeliverooDXB is the latest of several projects that aim at transforming Dubai International Airport's passenger experience. These include a free movie service with ICFLIX, an ongoing art initiative artDXB, Early Birds discounts of up to 25%, the first Jones the Grocer in an airport and a new sleep lounge 'sleep 'n fly', with many other major projects in the pipeline.