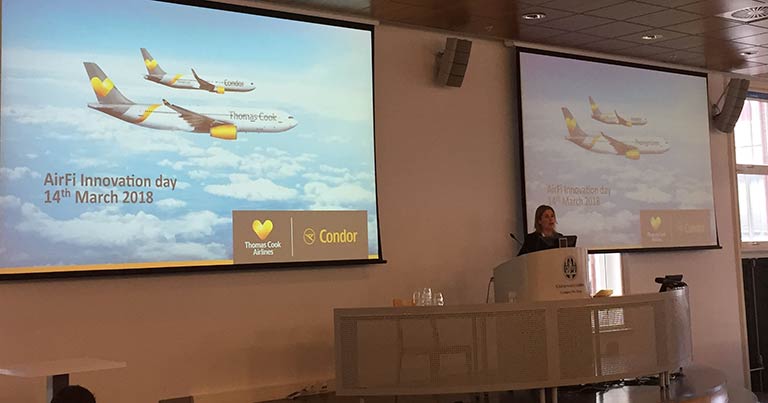 Speaking at last week's AirFi Innovation Day in The Hague, Tracy Barr, Head of Product, Thomas Cook Group Airlines, revealed that 34 aircraft will be flying with the AirFi Wireless IFE platform this summer season; an increase of 24 compared to last year. "Passenger feedback shows that they want IFE included on the short-haul leased aircraft that we use during the summer," she said.
Passengers connect to the AirFi service and stream content via a browser, removing the need to download an app ahead of the flight. Thomas Cook's own content can be accessed for free, while other content – including movies, TV shows, viral videos, magazines and games – can be accessed for €4/£4.
"The conversion for browser-based IFE is a lot higher than an app-based IFE," Barr stated. She also added that Thomas Cook Group Airlines is using passenger feedback to enhance the content selection, integrating the sale of AirFi voucher codes into the crew's onboard sales devices, enhancing its complimentary destination content, and exploring how it can drive revenues through content-related advertising.
AirFi's offline, non-app DRM technology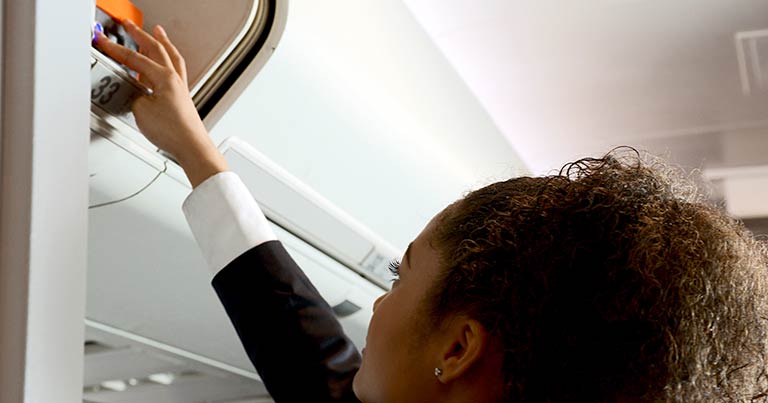 Separately, during the inaugural AirFi Innovation Day, which also included the opening of the company's new HQ in The Hague, AirFi revealed a number of product enhancements that are currently in the works. It is working with as-yet-unnamed antenna providers with a view to expanding its offer to include connectivity that supports low-bandwidth applications such as instant messaging and real-time transaction verification inflight.
Also, the Venus AirFi Box – the latest version of the company's portable IFE solution – now supports fully-autonomous operations, thanks to in-built technology that gives it real-time location and state awareness. This automates the process of the boxes switching on and off, configuring flight details and transferring data to and from the aircraft to the cloud, and therefore removes the need for flight crew to manually undertake these tasks.
AirFi has also revealed exclusively to FTE that it has secured approval from Warner Bros, one of the big six Hollywood studios, for what it has labelled "game-changing offline, non-app, browser-based DRM (digital rights management) technology". Essentially, this means passengers will be able to stream DRM content in a web browser on their personal electronic devices. Previously, only non-DRM content could be streamed in a browser, with DRM content only available for app-based streaming on phones and tablets.
"Gaining our first major studio approval from Warner Bros for our offline, non-app DRM is a huge watershed moment for AirFi and undoubtedly the wider industry," said Martin Cunnison, CCO, AirFi. "We've been championing universal browser-based access to our streaming content since we invented portable wireless IFE in 2014. Now everyone – Apple, Android, Microsoft, laptop, tablet or phone – whatever your persuasion, can enjoy the very best movies and TV programming from one of the world's most iconic brands."