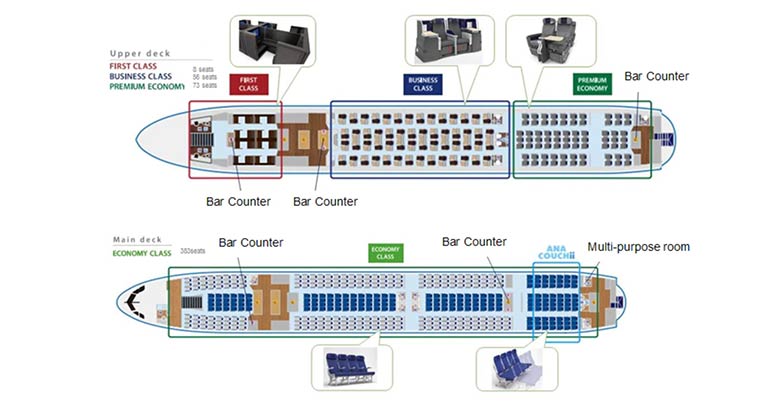 All Nippon Airways (ANA) has revealed details of what passengers can expect from its three new Airbus A380s, the first of which will enter service in spring 2019. The carrier's A380s will be introduced on the Tokyo-Honolulu route.
On the upper deck, ANA has opted for eight First Class seats, 56 Business Class seats, and 73 Premium Economy seats. This marks the first time ANA has offered First Class on this route, and each of the most premium seats features its own door and provides passengers with a high level of privacy.
In Business Class, ANA has opted for pairs of seats rather than staggered seating, which the airline says will be especially popular among those flying on honeymoon and family vacations.
The main deck will have 383 Economy Class seats, including 60 couch seats. Each couch is comprised of three or four seats and passengers are able to create a couch by folding up the leg rests. In addition, passengers in these seats will have the option of using a mattress to create an Economy Class bed.
The cabin interiors have also been strategically designed to reflect Hawaii as a destination. For instance, the walls and lights have been designed to illustrate Hawaii's blue skies, sunrises, sunsets, night skies and iconic rainbows.
All classes will have access to bar counters, and behind the main deck ANA has created a multi-purpose room where mothers will be able to tend to their babies and passengers will be able to change before arriving at their destination.
In March 2017, ANA announced the special "FLYING HONU" livery motif for its A380s. At the time, the design ANA unveiled was blue, an homage to the Hawaiian blue sky. Now, ANA has revealed two more livery design colours: green and orange. The emerald green is said to be inspired by the crystal clear waters of the Hawaiian ocean and the orange is a reference to the Hawaiian sunset.