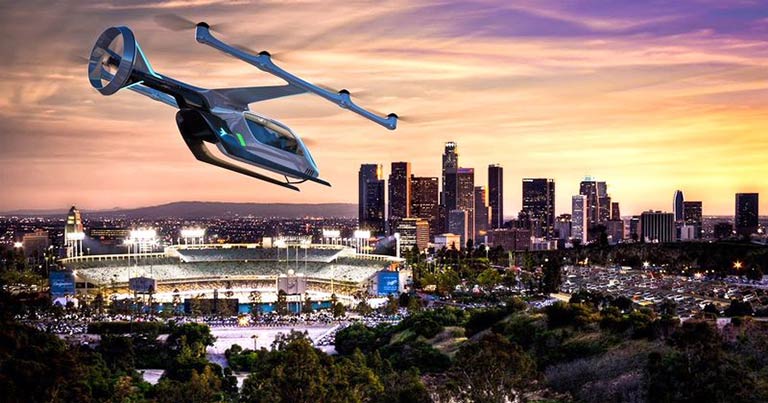 Embraer X, an arm of Embraer dedicated to developing disruptive businesses, has unveiled its first electric Vertical Take-Off and Landing (eVTOL) aircraft concept. The unveiling was made during Uber Elevate 2018 in Los Angeles, California.
Embraer X is engaged in several projects, including the development of eVTOL concepts through a cooperation with Uber and other companies to explore business opportunities within the Uber Elevate ecosystem.
The eVTOL concept is an aircraft that could serve passengers in an urban environment. Embraer X says it is the outcome of extensive interaction with potential urban air travellers about their desired experience, combined with the expertise of Embraer's teams and the collaboration with various companies and institutions.
"We have excelled in our near-50-year journey by introducing innovations into the aviation industry and delivering true value to customers," said Paulo Cesar de Souza e Silva, President and CEO of Embraer. "We are relentless in our quest for constant growth and through Embraer X we will drive disruptive innovation and accelerate the creation of new businesses with the potential for exponential growth. Urban mobility is ripe for transformation and we are committed to having a major role in this key market."
Antonio Campello, President & CEO of Embraer X, added: "We are developing solutions to bring on-demand air transportation to urban areas to improve quality of life for millions of people. Our collaboration with key stakeholders will accelerate the arrival of this new ecosystem. This is one example of how Embraer X is committed to exploring a range of disruptive products and services that could revolutionise the business of air transportation."
Earlier this year, FTE reported on how a raft of companies, ranging from Airbus and Uber to Hyperloop and Boom Supersonic, are embracing innovation to disrupt the air transport industry.