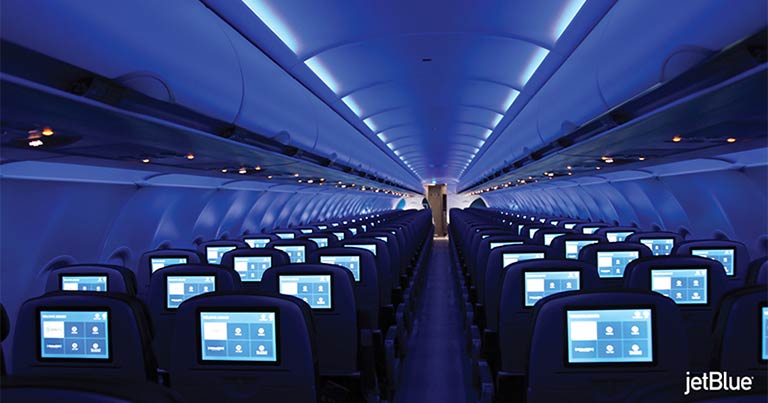 JetBlue has unveiled the first Airbus A320 to have undergone the fleet restyling, which is bringing an all-new interior to its A320 aircraft. The aircraft operated its first scheduled flight between Boston Logan international Airport and Bermuda's L.F. Wade International Airport.
The A320 cabin restyling marks the first major overhaul the airline's original fleet since launching in 2000. A major focus of the restyling is keeping passengers connected throughout their flight, including through a new inflight entertainment (IFE) system, high-definition seatback screens, in-seat power outlets with USB ports, and continued free gate-to-gate "Fly-Fi" high-speed internet.
The restyling will include two iterations of the design, with the 2018 model introducing features from the popular A321 interior, and the 2019 and beyond model featuring an innovative seat design and IFE system which JetBlue says will be "unlike anything offered by US airlines today".
For roughly the next nine months, JetBlue's A320s will be restyled with the Rockwell Collins Pinnacle seat and LiveTV 4 entertainment options currently enjoyed by passengers on the airline's A321 aircraft. In early 2019, JetBlue will transition to the restyling featuring the Rockwell Collins Meridian seat and Thales AVANT and ViaSat-2 products.
With this system, JetBlue will offer passengers on its restyled A320s expanded entertainment choices in nearly every region. This will include: a 10.1 inch, 1080p high definition screen at every seat; more than 100 channels of live television; an expanded collection of on demand movies, TV shows and video content, plus new gaming features; destination-specific content; a picture-in-picture function; a 3D flight map offering multiple ways to track time to destination; NFC (Near Field Communication) pairing which will turn personal handheld devices into remotes or gaming controllers; and expanded Fly-Fi connectivity, providing coverage to nearly the entire JetBlue network.
JetBlue's A320 restyling also allows the airline to refresh the overall feel of the aircraft interior. New LED lighting will enhance the look and tone of the cabin ambience and allow for a variety of lighting settings to increase customer comfort. New sidewalls and overhead bins will also be installed, as well as a variety of newly incorporated design elements throughout that will capture JetBlue's unique style and personality.
Also, building on the success of JetBlue's specially trained Mint flight attendants, or "crewmembers", the airline expanded its "JetBlue Promises" training standards across the board, and every inflight crewmember is on track to complete the programme in 2018.