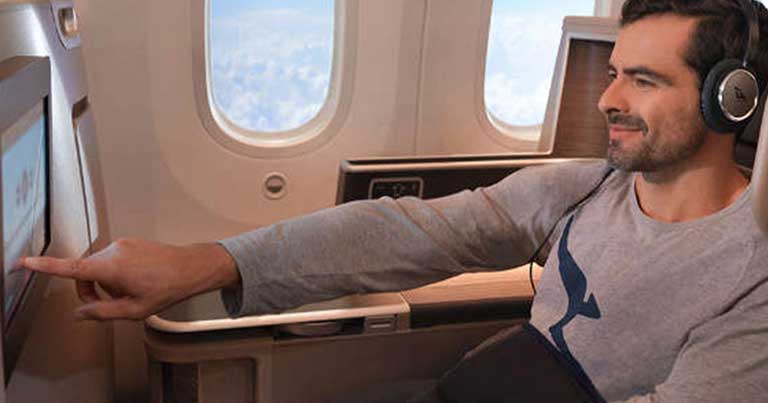 Qantas has signed agreements with Apple Music and Audible, and extended its existing partner content with Australian streaming provider Stan, to give passengers free access to more TV programmes, movies, songs and digital audiobooks both inflight and on the ground. The Australian airline has also introduced its first inflight meditation video series, designed to help passengers relax while on board. The meditation videos are based on aerial footage of Australian landscapes, with five different scenes to choose from, including deserts, bushlands, coasts, and forests.
"Customers tell us they value being able to take time for themselves inflight and watch a movie or read a book, and now we can help them find a little extra relaxation with guided meditation," said Vanessa Hudson, Chief Customer Officer, Qantas. "Between the special offers from our content providers, programmes on seatback screens and Wi-Fi rolling out on domestic aircraft, there will be no shortage of entertainment on board. Our customers watched 22 million hours of inflight entertainment last year, so we know a lot of people enjoy being able to catch up on their favourite TV shows when they fly or watch movies they didn't get to see at the cinema."
Apple Music, Audible and Stan are paid subscription services, but all three will offer free access to Qantas customers on and off the aircraft. Offers include up to four months free subscription to Apple Music, giving Qantas customers access to 45 million songs, one free audiobook per month for the first three months from the full Audible.com.au library of downloadable audiobooks for new Audible customers, and three months of unlimited access to TV shows and movies for new Stan customers on all Qantas flights. The new entertainment partner offers will be available progressively from June 2018. The meditation video series will also be available from June on Qantas inflight entertainment. A virtual reality (VR) version can be downloaded from the Qantas VR app before travelling.
Passengers can download content before their flight via the Qantas App or stream it inflight on selected domestic Wi-Fi-enabled aircraft. The airline is in the process of installing a ViaSat Wi-Fi system across its domestic fleet of A330s and B737s.  This system features speeds up to 10 times faster than conventional on-board Wi-Fi, giving customers the ability to stream movies, TV shows, the latest news bulletins and sport on domestic flights via the internet.
Qantas says that it offers around 2,000 hours of inflight entertainment content each month and adds that more than 6,000 passengers daily stream shows on the Qantas Entertainment app on their own mobile devices.