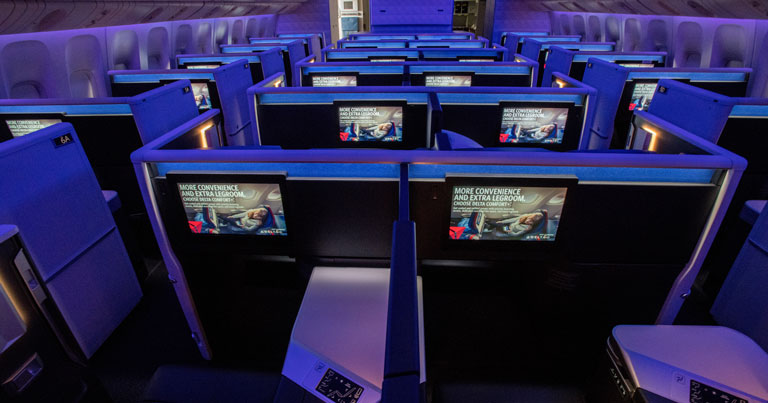 Delta has embarked on a full-fleet interior renovation of its 777 aircraft, featuring the Delta One Suites (business class), the new Delta Premium Select (premium economy) cabin and the widest Main Cabin (economy class) seats of Delta's international fleet.
Highlights of Delta's refreshed 777 aircraft include:
A total of 296 seats, including seating for 28 passengers in Delta One Suites, 48 in the Delta Premium Select cabin and 220 in the Main Cabin.
Nine-abreast seating in the Main Cabin versus the industry norm of 10-abreast.
Seatback inflight entertainment (IFE) screens throughout with Delta Studio and thousands of hours of content
Full-spectrum LED ambient lighting with customised lighting schemes depending on phase of flight.
Designed with an emphasis on customer comfort and privacy, the Delta One Suite offers each customer a private space accessed by a sliding door with personal stowage areas, an advanced IFE system, and premium trim and finishes to create a business class experience with a comfortable, residential feel.
The Delta Premium Select cabin provides additional space with adjustable head and footrests and an elevated service.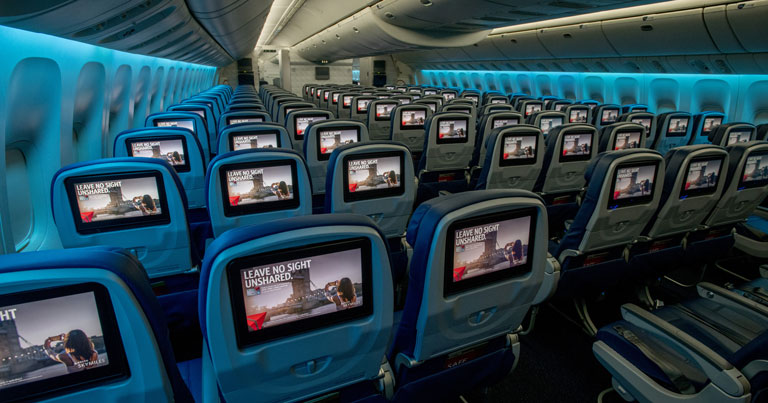 Delta's retrofitted 777s will feature 18.5-inch-wide economy class seats – the widest of Delta's international fleet. Each passenger will also have personal power ports and entertainment on individual seatback screens.
The aircraft is equipped with Gogo's Ku-band Wi-Fi connectivity and customers will have access to free mobile messaging while onboard through iMessage, WhatsApp and Facebook Messenger.
Delta's first refreshed 777 will operate the Detroit-Beijing route on alternating days in July only, filling in for the A350. All eight of Delta's 777-200ER and all 10 777-200LR aircraft will be retrofitted by the end of 2019.