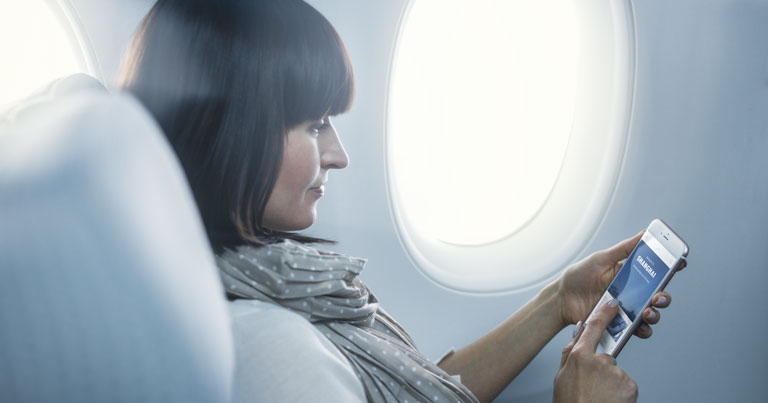 Finnair has launched its high-speed internet service on its narrow-body Airbus fleet for European flights. Finnair passengers are able to enjoy fast inflight and gate-to-gate connection speeds, enabling them to surf the web, shop online, listen to music, and watch movies and TV shows from popular video streaming services.
In partnership with Viasat Inc., Finnair has already installed the high-speed inflight Wi-Fi service on six of its narrow-body Airbus aircraft. By the end of this summer about 20 aircraft are expected to be installed with internet connectivity, with the entire narrow-body Airbus fleet expected to be internet-connected by summer 2019.
"We are very happy that we can offer our customers something truly special, a state-of-the-art internet connection on our European flights," said Piia Karhu, SVP, Customer Experience at Finnair. "Customers can also enjoy the services we provide online through our Nordic Sky portal, such as the latest digital newspapers and shopping possibilities. Having an internet connection onboard also enables us to introduce new tools for our crew to improve the customer experience on our flights."
The testing period will run for two months when customers will be able to try the services free of charge. During this period, Finnair is gathering information on system functionality and feedback on the overall customer experience.
Don Buchman, Vice President and General Manager, Commercial Aviation, Viasat, added: "In entering the passenger testing phase, we'll be gaining the critical insights needed to further optimise our service to ensure Finnair customers get a unique experience built around their needs, interests and usage behaviours."