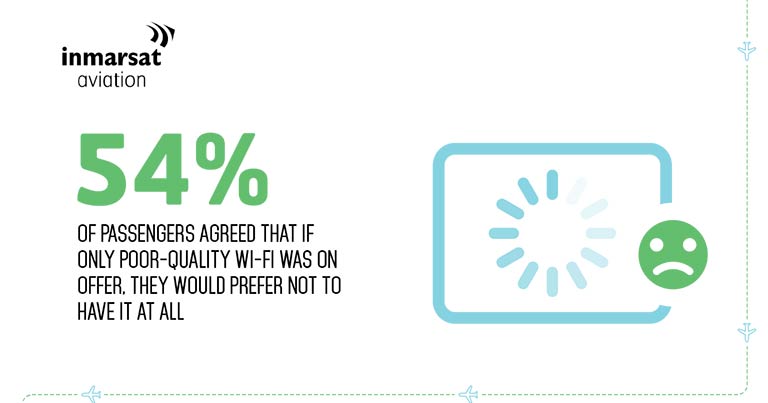 The latest Inflight Connectivity Survey, published this week by Inmarsat, highlights that high-speed in-flight Wi-Fi is in big demand among today's air travellers. The survey, undertaken in association with market research company Populus, found that 78% of those questioned believe that Wi-Fi is fundamental to daily life. 55% described in-flight Wi-Fi as crucial.
Among the key findings are:
81% of passengers would use in-flight Wi-Fi if it was available on their next flight, rising to 91% of 18-30 year olds, 90% of business travellers and 90% of passengers travelling with children.
65% of passengers that have had access to in-flight Wi-Fi in the last year used it.
70% of passengers would be likely to recommend in-flight Wi-Fi having tried it previously.
74% of business travellers feel that in-flight Wi-Fi is crucial, with 87% stating that if in-flight Wi-Fi was available they would be likely to work and be productive on a plane.
For more than half of passengers (54%), no Wi-Fi at all is better than a poor quality service.
67% of passengers would be more likely to rebook with an airline if high-quality in-flight Wi-Fi were available. This likelihood to rebook rises to 81% of passengers travelling with children, and 83% of business travellers.
53% would be willing to give up their in-flight alcoholic drink to get online.
Philip Balaam, President of Inmarsat Aviation, said: "Wi-Fi is essential to daily life on the ground, and airline passengers see no reason why their time on a flight should be restricted or spent any differently. Whether it's used for sending that important work email, entertaining the children or even connecting with fellow passengers, staying online is becoming a crucial part of the in-flight experience for today's airline passengers."
For the survey, Populus interviewed 9,341 adults online between 18 April and 14 May 2018 in Europe, North America, Latin America, India, Middle East & Africa, and Asia Pacific.