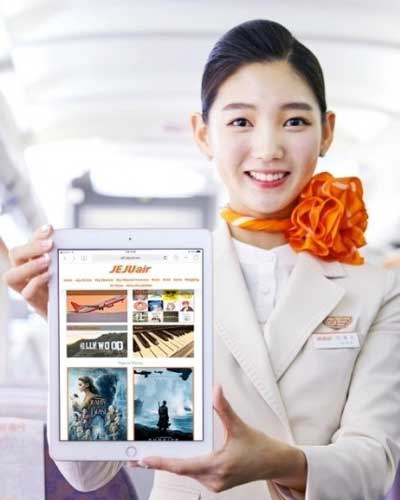 Following a successful trial in late 2018, Jeju Air is set to deploy Bluebox Wow portable wireless inflight entertainment (IFE) across its fleet of Boeing B737-800s.
The IFE service is currently offered free to passengers on board 10 aircraft, with the total deployment increasing to 39 aircraft in April 2019. Bluebox Wow is currently available for passengers flying between Incheon Airport and destinations including Bangkok, Guam, Saipan, Vientiane, Hong Kong, Macau, Kota Kinabalu and Da Nang.
"We're excited to welcome Jeju Air to the growing list of airlines flying with Bluebox Wow," said Kevin Clark, CEO, Bluebox. "We've watched as Jeju Air has expanded its reach across Asia and how they innovate in so many areas, so it is an honour to be part of their growth story, and more importantly, that they've put their trust in Bluebox to enhance their passenger experience on board."
Bluebox Wow provides wireless content streamed to passenger devices in any aircraft cabin, including a wide range of film, TV, audio, games and other digital content, accessed through any web browser. The content is delivered using a discrete, portable, lunchbox-sized unit stowed securely in overhead lockers.
Bluebox Wow also now boasts the coveted "KC Mark" as all electrical and electronic products entering South Korea are subject to KC Certification, a mandatory scheme which verifies safety as well as Electromagnetic Compatibility (EMC) and Radio Frequency (RF) requirements.