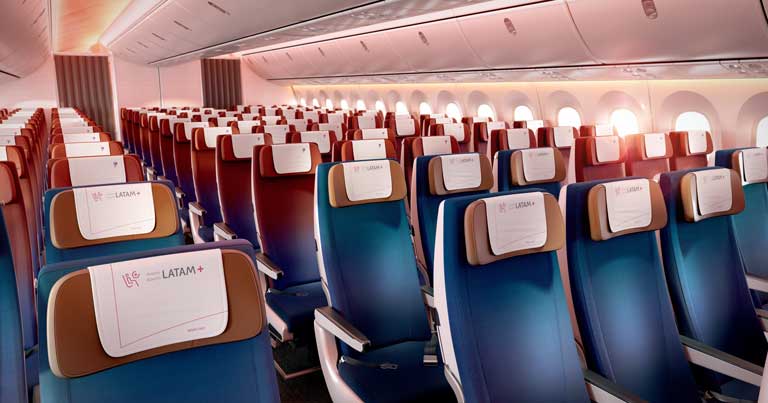 LATAM Airlines Group has partnered with PriestmanGoode to design new cabin interiors as part of its vision to offer passengers a travel experience with more options, flexibility and personalisation.The new cabin interior will be introduced to over 200 aircraft through a retrofit programme over the next two years and will also feature in LATAM's new aircraft. Passengers will be able to fly the new designs from early 2019.
"Our new cabins will enable us to offer an industry-leading onboard experience with more options, flexibility and personalisation to better serve each and every passenger," said Claudia Sender, Vice President Customers, LATAM Airlines Group. "Our Premium Business cabin will provide unrivalled comfort, privacy and a new service concept to enable passengers to arrive at their destinations well-rested and ready to continue their journey. At the same time, our new Economy cabin will offer passengers greater comfort as well as more options to upgrade services and tailor their travel experience."
Luke Hawes, Director of PriestmanGoode, explains: "We have a long-standing relationship with LATAM Airlines Group and have collaborated on many projects over the last 10 years. As a result, we have an intimate understanding of the brand, its requirements, its ambitions, and its passengers."
According to PriestmanGoode, developing the colour palette for this project was a complex process. Daniel Sohi, Project Head, PriestmanGoode, explains: "It was important to us to imbue the aircraft with a sense of place, but LATAM Airlines Group encompasses a lot of different countries and therefore different visual identities. We decided to look through commonalities in landscape as the key element that draws everything together, with the design language of the Business Class cabin drawing inspiration from and reflecting iconic architecture seen throughout South America."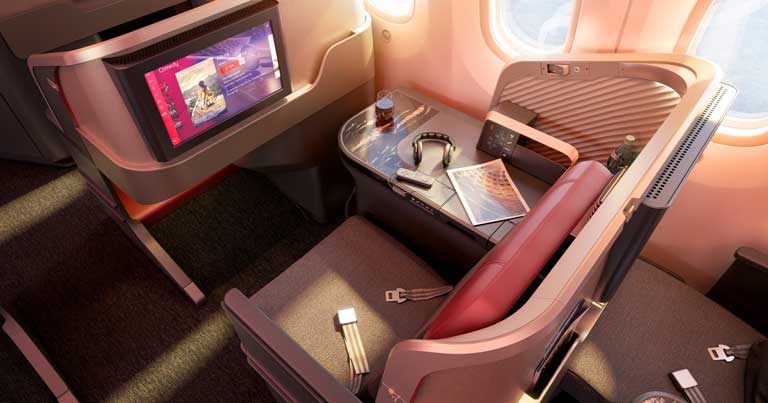 The design for each cabin has been carefully considered as part of a passenger's holistic travel experience and lifestyle, and ranges from elegant and modern in Business Class to a more playful and colourful palette of materials in Economy Class.
The Business Class cabin offers a sleek and contemporary environment that connects the onboard experience with the passenger's world of high-end product and interior design. Some of the features include customised Thompson seats with direct aisle access for every passenger; seating options for both individuals and couples travelling together; a full-flat bed; up to 18-inch personal screen; ample storage space for personal items; granite cocktail table; reading light; wash lighting around seat architecture; optional privacy screen; and a "do not disturb" sign.
The Economy cabin features Recaro seats with custom dress covers. The colours of the materials, which vary from deep blue to vibrant reds, are selected to reflect South America's scenery, culture and heritage. The LATAM+ Seats in the Economy cabin, on the other hand, are inspired by the South American coastline.