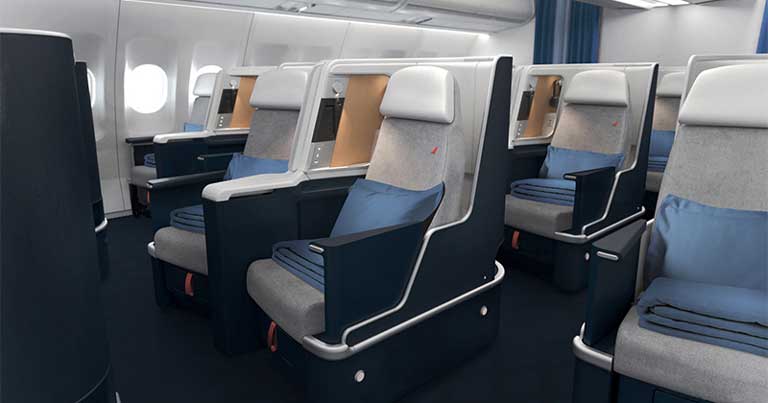 Air France has unveiled its new long-haul travel cabins on board its Airbus A330s. The airline offers a new travel experience in its Business, Premium Economy and Economy cabins. A further 15 aircraft will be completely redesigned by 2020 as part of a global investment of €140 million.
The first aircraft with the new interior was deployed on a service to Accra on 3 February. The upgraded cabin will initially be available on flights to Accra, Ouagadougou and Houston until the end of the winter season. The new Airbus A330 will progressively be deployed on flights to Cotonou, Lagos, Niamey, Bengaluru and Delhi, as well as Seattle, Chicago and Dallas.
The newly redesigned Business seat converts into a lie-flat bed and provides passengers with the option to either enjoy closer proximity when travelling with someone else, or privacy thanks to a sliding panel separating the seats. The ambient lighting emphasises the details of the new Business cabin's décor. A brand-new, extra-wide HD touch-screen offers passengers over 1,400 hours of entertainment. Its intuitive interface comes with a new more user-friendly handset. The toilets have also been redesigned with the customer's comfort and wellbeing in mind.
The Premium Economy seat upgrades include a 130° seat recline in a fixed shell; 102cm seat pitch; lumbar support adapted to different body shapes; additional storage space; a wider footrest; and a 13.3 inch HD screen. On board all its long-haul aircraft, Air France also guarantees relaxation with a feather pillow and blanket, as well as a comfort kit which is renewed every six months. Each passenger will have a personal power outlet and two USB ports, as well as a choice of entertainment.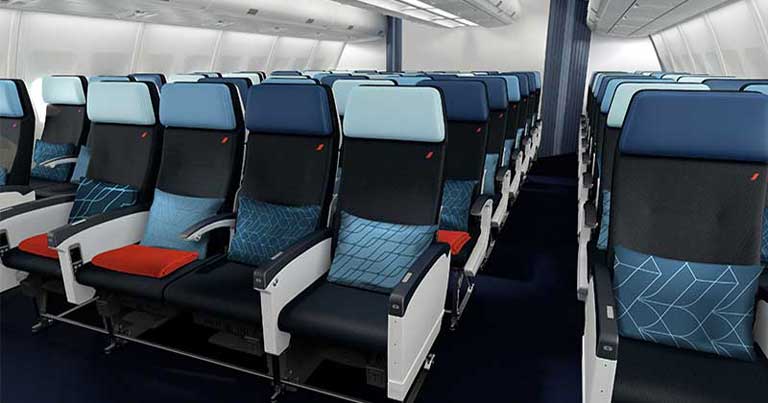 The Economy seat has also been redesigned to provide passenger comfort with more space between the armrests, reinforced ergonomic foam in the seat and a 118° recline, 79cm legroom, a large tray table and a wider, latest generation 11.6 inch 16:9 HD touch screen. The seat is equipped with a personal power outlet and a USB plug, allowing customers to use their electronic devices throughout the flight, as well as a large range of entertainment with audio headset provided on board.
Moreover, on board all its redesigned Airbus A330 cabins, Air France offers its new Air France CONNECT Wi-Fi, which is available in three Wi-Fi passes – a free "Message pass"; a "Surf pass" and a "Stream pass", all accessible from the passengers' personal devices.