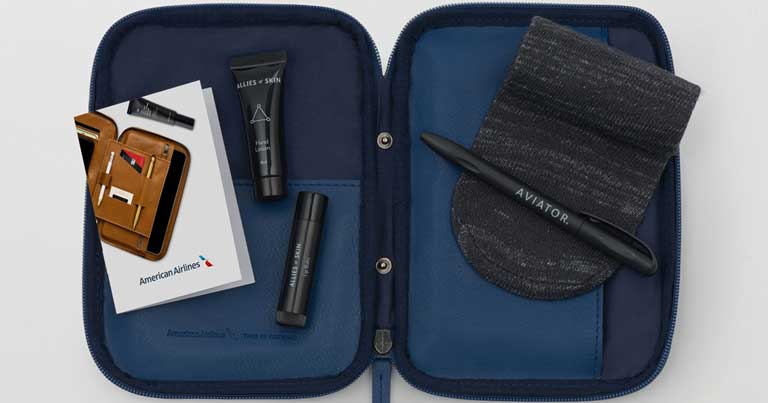 American Airlines has teamed up with some of the leading up-and-coming lifestyle and skincare brands to develop new and improved premium amenity kits. This year's kits are specifically tailored with the frequent flyer first and business class traveller's needs in mind and will be available from mid-February.
The kits were designed in collaboration with This is Ground, Athletic Propulsion Labs and STATE Bags and feature products from brands such as Allied of Skin, Zenology and Baxter of California. Colour rotations and products vary depending on cabin, however, each kit includes essentials such as an eye mask, earplugs, a toothbrush and toothpaste.
"American is always exploring ways to innovate and make our customers' travel experience more relaxing and enjoyable, especially on long-haul flights," said Janelle Anderson, Vice President of Global Marketing for American Airlines. "The changes we've made to this year's amenity kits were driven by our customers' feedback about what they desire and value while travelling. Our goal is to curate an elevated and restful travel journey, and our new amenity kits are an exciting piece of the onboard and our overall brand experience. We're thrilled to partner with these brands and offer customers a fresh, modern collection of premium inflight products."
Moreover, American has invested in its onboard product by adding more fully lie-flat seats, international Wi-Fi, inflight entertainment, live television streaming and healthier contemporary food and beverage choices. It has also opened premium Flagship Lounges and Flagship First Dining at John F. Kennedy International Airport, Los Angeles International Airport, Miami International Airport and O'Hare International Airport in Chicago. Another Flagship Lounge location is coming soon to Dallas Fort Worth International Airport.