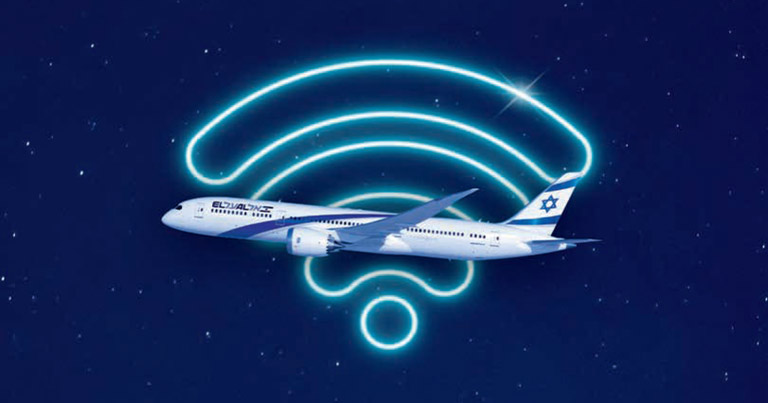 EL AL Israel Airlines has deployed the Viasat inflight Wi-Fi service on transatlantic flights. The Wi-Fi service will leverage the advanced ViaSat-2 satellite to bring high-speed, high-quality internet to key EL AL routes flying to and from North American destinations including New York, Toronto, Los Angeles, Miami, as well as San Francisco and Las Vegas, once flights to these destinations begin in May and June 2019 respectively.
The Viasat inflight Wi-Fi service is said to offer an at-home or office experience in the sky, keeping flight crews connected and enabling passengers using smartphones, tablets or laptops to browse websites, connect to email and instant messaging, use apps and social networks, and to stream music and films onboard. When flying on transatlantic routes, the system will connect to the ViaSat-2 satellite, which offers high-quality Ka-band capacity over the Atlantic Ocean, giving passengers a high-performing internet connection from across North America and the Atlantic Ocean to Europe.
Gonen Usishkin, CEO of EL AL, commented: "We are well aware of our customers' needs and interests in having an onboard reliable Wi-Fi system. We are proud to present the best inflight Wi-Fi product –delivered by our partner Viasat – that will enable connectivity for our passengers flying from Israel to North American destinations. We have invested great efforts to provide our customers on these routes with the most advanced, innovative Wi-Fi system in the aviation world."
Viasat Chairman and CEO Mark Dankberg added: "We've had a long and successful partnership with the team at EL AL. Looking back at the start of our partnership, EL AL selected Viasat because they had confidence in our ability to make their vision for in-flight connectivity a reality – from optimising passenger satisfaction with great in-flight Wi-Fi experiences to ensuring passengers could enjoy enriching entertainment when flying over the Atlantic Ocean. We're proud to be able to help EL AL realise their vision for the connected aircraft."
Currently, the Viasat inflight Wi-Fi service is available on the airlines' eight new Boeing 787 Dreamliners, eight Boeing 737-900 aircraft and two Boeing 737-800 aircraft.
EL AL offers three in-flight Wi-Fi packages – Basic, Social and Business – which can be purchased during the flight through the EL AL Wi-Fi portal via credit card, EL AL Matmid Club points or FLY CARD. EL AL's top Platinum Matmid members can enjoy the Wi-Fi service for free.