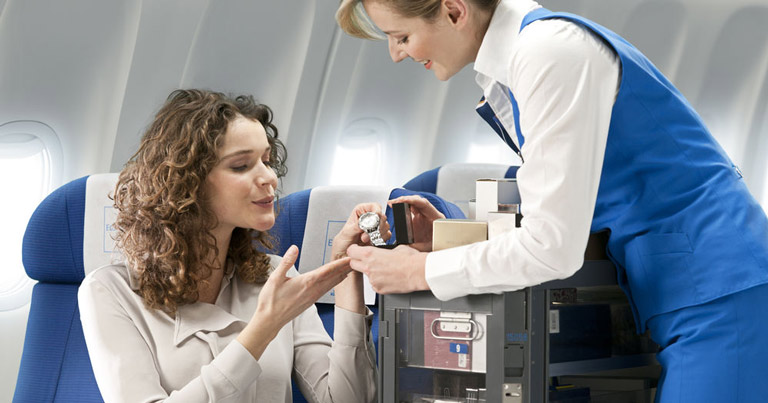 KLM Royal Dutch Airlines has announced that it will no longer offer duty free items for sale on its European flights from July 2019, and on intercontinental flights from January 2020. As a result of new developments such as the rise of e-commerce, the airline states that sales onboard no longer meet customer needs. The airline is currently exploring alternative forms of travel retail.
Miriam Kartman, Executive Vice President, KLM Inflight Services, said: "Because the current sales process no longer meets today's customer requirements, we have decided, after extensive deliberation, to bring this to an end. As a result, passengers on our European flights will no longer be able to buy tax-free articles onboard from July 2019 and from January 2020 on our intercontinental flights."
She added: "We will shortly be launching several pilot projects to this end. Customer convenience and a wide range of products are central to this."
Rise of connectivity and e-commerce
According to a m1nd-set Generation report, airline duty free/travel retail sales are expected to experience an annual decline of -1.5% between 2016 and 2025, highlighting the need for a new approach to boost revenues.
Indeed, KLM is the latest in a list of major carriers to drop inflight duty free. Others who have taken this approach in recent years include United Airlines, American Airlines, Delta Air Lines, Qantas and LATAM.
While American and Delta claimed that they made their decisions based on disagreements with vendors, others are steering away from the traditional duty free trolley approach due to growing competition from online and airport shopping.
The rise of inflight connectivity is also a major factor, as more airlines are seeking to become digital retailers. Finnair already offers shopping services through its Nordic Sky platform, while a number of airlines are also exploring an e-commerce model, such as AirAsia with its inflight e-marketplace OURSHOP and Singapore Airlines' omni-channel e-commerce platform.
Improved onboard connectivity also opens up new opportunities for partnerships with leading e-commerce and streaming services, such as Amazon, as well as startups that are bringing forward new solutions to reinvent the shopping experience.
Startups present new ancillary revenue opportunities
One such company, SKYdeals, a member of the FTE Startup Hub, has created a 'Shoppertainment' solution, which offers passengers connected to Wi-Fi access to a catalogue of last-minute offers on services depending on their destination. These include activities, entertainment, hotels, airport transfers, as well as a selection of products.
The solution has already been adopted by Air France on its long- and medium-haul flights equipped with Wi-Fi connectivity. "Inflight retail has two fantastic assets: passengers' data and a captive audience with a lot of time to kill," said CEO and co-founder of SKYdeals, Julien Sivan.
The question then lies in how airline retail can become more attractive, perhaps even more so than what mainstream digital/e-commerce retailers can offer. Indeed, as Sivan points out, the big differentiator here is data. Airlines really need to put their data to work to be able to create personalised experiences and offers, which would improve customer satisfaction, strengthen brand loyalty and increase profitability.
Inflight connectivity, e-commerce and airlines' willingness and ability to become fully-fledged retailers are among the topics that will be discussed at this year's Future Travel Experience Ancillary event, which will take place in Istanbul on 18-20 June 2019. The show is free to attend for airlines and low-cost for airports.