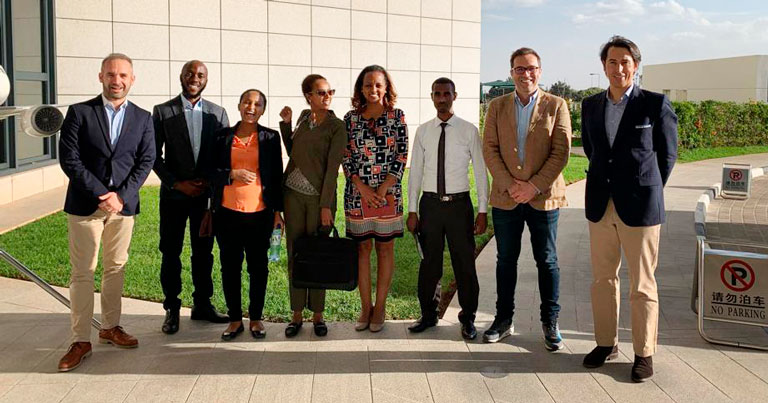 Immfly announced it has established partnerships with US-based long-haul carrier Eastern and African carrier Ethiopian Airlines to provide its inflight entertainment and digital services.
Immfly's W-IFE (wireless IFE) platform will be installed on nine Eastern Boeing 767s in the coming months. Eastern and Immfly will be offering a disruptive platform with integrated digital services that include a combination of revenue generation tools. These tools will be made available in the US market for the first time and will enable Eastern to benefit from a combination of revenue streams.
Moreover, Eastern passengers will be able to enjoy a W-IFE premium portfolio of video and audio content from the largest Hollywood studios. The platform will also be made available in multiple languages.
Eastern's President & CEO, Steve Harfst, explained: "Eastern looks forward to launching Immfly's Connected Digital Services Platform across its full fleet. We see a clear opportunity to enhance our service and operations with one of the most innovative propositions in the market delivering a premium IFE experience to our passengers while fortifying our competitive edge."
Jimmy Korff, Immfly's co-founder, added: "We are confident we will contribute real value to Eastern's current operations and ambitious plans. Immfly remains committed to expanding the provision of its technology, proven to deliver the optimal IFE experience and digital services, with the most efficient business model in the market. This US partnership with Eastern reinforces the relevance of our unique proposition to international long haul carriers, and builds on the broader success demonstrated with our clients to date."
In other news, Ethiopian Airlines announced that it will adopt Immfly's connected digital services and IFE platform on 20 aircraft by this summer. The platform will be available in five languages, namely English, Amharic, Chinese, French and Arabic to serve the distinct nationalities in the airline's demographic profile.
In addition to premium entertainment and Immfly's proprietary content modules, Ethiopian will benefit from Immfly Active, a cutting-edge portal, empowering the airline with increased flexibility and autonomy. Immfly Active is a powerful direct access portal enabling airlines to track onboard KPIs, analyse key data and progressively manage a greater number of onboard services for greater competitive advantage.
Ethiopian Airlines Group CEO, Tewolde GebreMariam said: "We are pleased to partner with Immfly for inflight e-commerce and on-board connectivity expertise. This partnership confirms our continued commitment to our strategic vision to consolidate our leadership position on the African continent in terms of using cutting edge technology for the comfort of our esteemed passengers onboard our flights."
Moreover, following success in revenue generation from on-board branding and performance campaigns, Immfly has launched a new media division, "Adsfly", providing a 360º advertising solution focused on the airline industry.