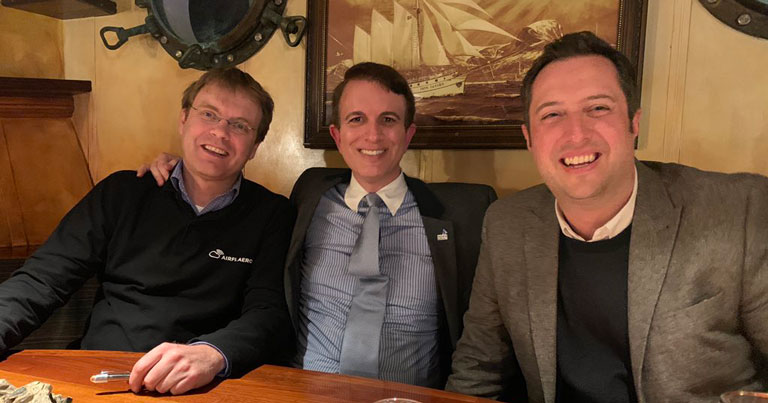 AirFi, provider of portable wireless IFEC solutions, announced two major deals with KLM and Lion Air Group during the AIX show in Hamburg last week.
Lion Air Group has signed an agreement with AirFi Indonesia, the company's Jakarta-based division, to equip its entire narrow- and wide-body fleet and all new aircraft deliveries, making it the largest AirFi wireless IFE customer by fleet size.
Satish Mahtani, Managing Director, AirFi Indonesia, commented: "It is a tremendous endorsement from Lion Air Group to put AirFi at the heart of the onboard digital passenger experience at one of world's biggest carriers. Within our first year of operation, AirFi Indonesia has captured the majority of its home market. A clear signal that customers trust the quality and delivery of AirFi's product and supporting systems and services."
AirFi's co-founder, EVP Commercial for Asia Pacific and Middle East, Martijn Moret, added: "We first put down our roots in Asia over four years ago and now have our technology, operations and customer-facing teams established across five countries – most recently with the launch of our new regional HQ in Singapore. We rolled out AirFi Autonomous Operations technology last year, to radically simplify daily logistics and reduce costs and make AirFi a highly viable mainstream IFE option for larger fleets.
"I'm delighted that AirFi Indonesia and Lion Air will now begin the next stage in this journey together to deploy a highly engaging, operationally efficient and financially successful solution to serve tens of millions more passengers throughout Asia."
KLM opts for AirFi
Meanwhile, KLM Royal Dutch Airlines became AirFi's latest customer in Europe. AirFi will for the first time be deployed alongside existing installed IFE on KLM's Boeing 747s.
Rene de Groot, COO, KLM, said: "The quality of the current inflight entertainment in the Boeing 747-400s is no longer of the level that it should be. Because the aircraft will disappear completely from the fleet in the coming years, investing in new (embedded) systems is no longer profitable. With the AirFi system onboard, we can provide the passengers with high quality content via their own mobile devices."
KLM had initially planned to fully retire its 747s by 2020, but by deferring its A350 deliveries last year, the airline has decided to give the fleet an extended active life.
"As a relative newcomer to this vibrant industry, we are honoured to have our own small part to play in the lifetime of this legendary aircraft," added Job Heimerikx, CEO of AirFi. "We are hugely proud that KLM and AirFi will become the first to deploy a full-spec portable wireless IFE system alongside an existing installed in-seat IFE system."