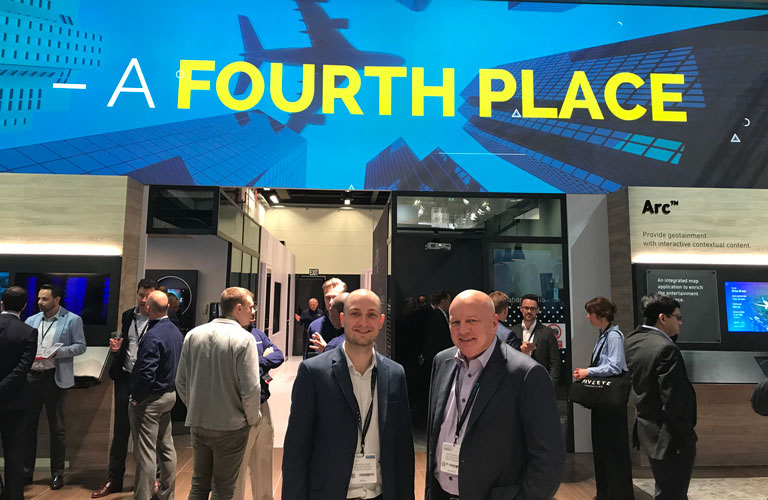 At AIX in Hamburg, Panasonic Avionics unveiled a raft of developments, including a personalised inflight 3D map platform for its NEXT and X Series inflight and connectivity (IFEC) systems, a partnership with Etihad Airways to develop and trial a wellness app feature, and a deal with IMG to stream live esports on board aircraft.
Enhanced NEXT platform
Panasonic Avionics introduced several enhancements to its NEXT platform. It announced a partnership with Etihad Airways to jointly develop and trial Panasonic's new wellness solution, the Jet Lag Adviser, which was developed in collaboration with Detalytics. The solution will be integrated into the airline's passenger app.
The feature will address jet lag as one of the biggest challenges that air passengers face when travelling across multiple time zones. To help passengers combat this, the Jet Lag Adviser takes a range of passenger inputs including chronotype, circadian rhythms, height, weight, the nature of travel, and travel information such as flight times, routes and zones and uses its artificial intelligence engine to produce personalised jet lag plans for passengers with tailored advisories to help them reduce jet lag.
Robin Kamark, Chief Commercial Officer, Etihad Aviation Group, said: "Etihad is committed to providing choice and a superior experience to our guests, and we are continually looking at new ways to do just that. With the Jet Lag Advisor, we can now leverage artificial intelligence to improve the travel experience. This will be the first of many wellness initiatives we will explore together, and we are excited about our partnership with Panasonic and the possibilities that lie ahead."
During the event, Future Travel Experience also caught up with David Bartlett, Chief Technology Officer, Panasonic Avionics, who explained: "Our biggest mission statement is to make travel something people look forward to. We have a huge opportunity to make a huge impact."
Throughout each phase of the travel experience, the Jet Lag Advisor will send reminders with recommended actions to passengers via the app. By following the recommended advisories, the Jet Lag Adviser should help passengers feel more energetic.
Besides the Jet Lag Advisor, the company also unveiled its enhanced range of Wellness solutions it offers to airlines and their passengers with the introduction of Calm and myNoise.
Calm, one of the leading apps for sleep, relaxation and meditation, and myNoise, which features a collection of soundscapes that passengers can listen to that aid relaxation, sleep, focus and enjoyment, have become the latest elements of Panasonic's growing range of Wellness solutions which are offered on three platforms: Digital, Hardware, and Lifestyle. These already include Active Noise Control, Premium Seat Lighting and Panasonic's nanoe technology, along with a range of wellness applications developed in collaboration with Detalytics and Mimi Hearing Technologies.
Collectively, Panasonic's Wellness solutions have been created to help passengers address and reduce jet lag, anxiety, stress, fatigue, noise, lighting, odours and dehydration.
New inflight map
With the introduction of the new Arc Inflight Map Platform, a 3D inflight map application and service for its NEXT and X Series IFEC systems, Panasonic Avionics has entered the inflight map market.
Arc brings a wide range of innovative new features to the traditional inflight map application, while expanding that concept into a fully integrated experience within the IFEC system, in particular by integrating it with new services from Panasonic including Loyalty (Panasonic's personalisation services), Marketplace (for onboard e-commerce) and Insights (for analytics), all backed by its NEXT Cloud infrastructure.
The technology is inspired by the latest design thinking of contemporary UX and high-definition gaming experiences, and enables airlines to leverage the high viewership of moving maps inflight. Arc will be available across all inflight displays including seatback, overhead, handset, and within mobile apps and web portals.
Live inflight gaming
Another highlight for Panasonic was the launch of esports as the latest addition to Sport 24 Extra's live inflight entertainment programming.
According to the company, this marks the first time that live, organised, competitive gaming has been introduced to aviation. It will be accessible to passengers via the IMG-owned and produced Sport 24 Extra channel, which is available exclusively inflight on Panasonic-equipped aircraft.
Introducing esports to the aircraft cabin is said to enable airlines to enhance the passenger experience by providing more engaging inflight gaming viewing options. It will also improve operational efficiency by providing long-lasting value on investment, and drive new business opportunities through advertising and attracting a new audience.
Bartlett commented: "As passengers get younger and airlines become more digital, the need for new and engaging content is increasingly essential to compete. Esports brings significant value to an airline by enhancing the passenger experience with engaging content that has garnered one of the fastest growing audiences in entertainment. Similar to traditional sports, esports is most valuable when broadcasted live. Past live esports tournaments and matches have seen viewership surpass traditional sports."