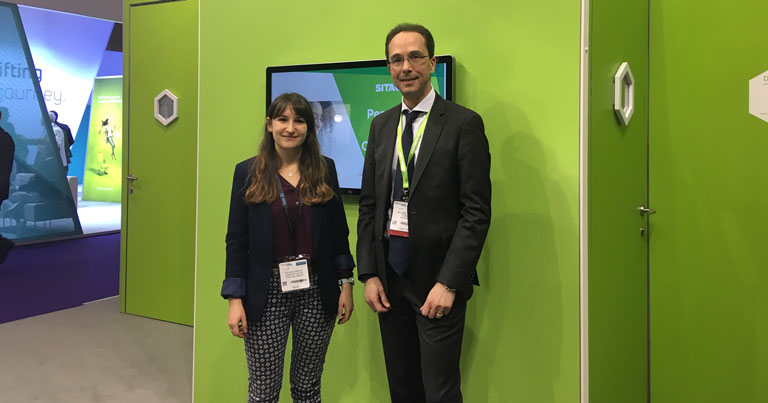 SITAONAIR is strenghtening its presence in Asia with its latest partnerships with Taiwanese start-up carrier Starlux Airlines and Philippine Airlines (PAL).
Starlux Airlines is gearing up for its commercial launch by announcing its partnership with SITAONAIR to bring next-generation inflight connectivity (IFC) to its passengers. SITAONAIR will deploy its Internet ONAIR Wi-Fi portal – powered by Link ONAIR over Inmarsat's high-speed GX Aviation satellite network – aboard the airline's A321neos and A350s. The deal means that SITAONAIR's IFC services will be available to Starlux's first passengers when it launches in 2020.
"As we prepare to welcome our first passengers aboard in 2020, we are thrilled to be partnering with SITAONAIR to bring a world-class connectivity experience to passengers," says Glen Chai, President, Starlux. "We are excited by what is taking shape and are certain that Internet ONAIR over GX Aviation will deliver the consistent and high-speed connection necessary for a top-flight travel experience."
Katrina Korzenowski, SITAONAIR Commercial Regional VP, Asia-Pacific, says: "Starlux is an exciting new entrant to the premium air travel market, and we are delighted to be partnering with the airline to bring premium inflight passenger connectivity onboard. With our years of dedicated expertise delivering tailored solutions, we are the right partner for Starlux to bring this young carrier to the fore of passenger connectivity."
During AIX, SITAONAIR also announced it will equip Philippine Airlines (PAL) with its high-speed inflight connectivity (IFC) services over GX Aviation.
SITAONAIR has now activated GX Aviation's high-speed broadband network, and its IFC portal Internet ONAIR , aboard PAL's new-generation aircraft. According to SITAONAIR, the solution is empowering PAL to deliver home-like connectivity services to satisfy passengers' growing digital demands.
Philippine Airlines President and Chief Operating Officer Jaime Bautista, said: "We are delighted to have long-term partner SITAONAIR join us on our journey towards achieving the coveted 5-Star Skytrax rating. We are taking our inflight passenger experience to the next level with SITAONAIR's nose-to-tail inflight connectivity services over the high-speed capabilities of GX Aviation. We have high hopes that our partnership will help us achieve our mission of enhancing the total passenger experience while achieving operational efficiency. Our message to our passengers: 'Fly on PAL's long-haul routes and enjoy inflight connectivity at its finest'."