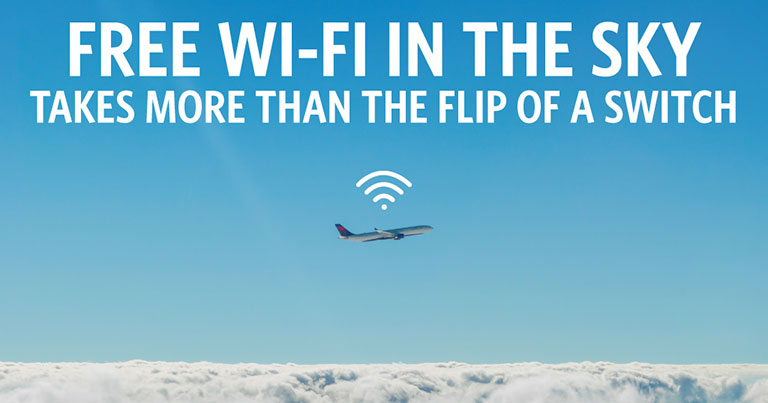 Delta Air Lines passengers on more than 50 domestic flight segments a day will have an opportunity to surf the internet free of charge during a two-week trial, which started on 13 May. The pilot, which applies to all cabins, is a step towards the carrier's vision of offering free inflight Wi-Fi.
"Customers are accustomed to having access to free Wi-Fi during nearly every other aspect of their journey, and Delta believes it should be free when flying, too," said Ekrem Dimbiloglu, Director of Onboard Product. "Testing will be key to getting this highly complex programme right – this takes a lot more creativity, investment and planning to bring to life than a simple flip of a switch."
While this test will not support content streaming, it enables passengers to browse, email, shop, message, engage with social media and more – all free of charge.
Delta's initial test on select domestic high-speed 2Ku Wi-Fi-equipped aircraft is designed to understand customer experience preferences, system performance, customer feedback and more. Dimbiloglu noted that due to the complexity of the project, it will likely take several more test phases and lots of listening to ensure the free product Delta delivers, adds value.
"As with any test in uncharted territory, Delta will rely heavily on customer and employee feedback to navigate how to best make free in-flight Wi-Fi a reality," Dimbiloglu said.
Test flight segments will change daily as part of the test structure, but customers will be notified by Delta if they're being tapped for the test via email and a Fly Delta app push notification prior to their flight and upon visiting the Wi-Fi portal on board.
Delta currently offers Wi-Fi on nearly all flights across its domestic and international networks and has installed high-speed 2Ku on 60% of mainline aircraft. Wi-Fi for purchase and free mobile messaging will remain available throughout the test timeframe, just as they are today.