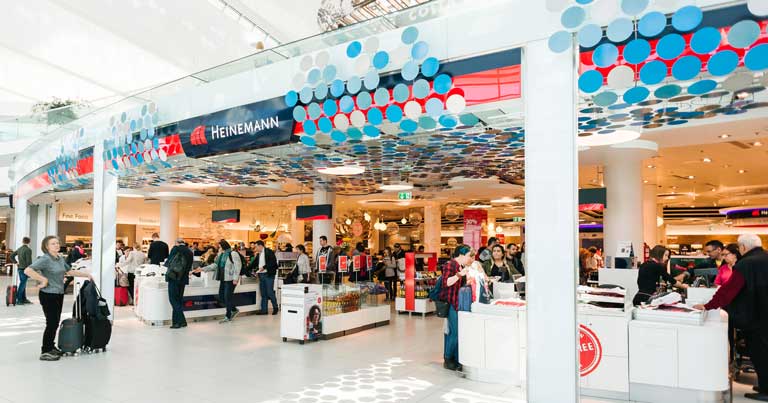 Budapest Airport and Heinemann Duty Free have introduced a payment initiative with Alipay and China Union Pay for the airport's growing number of Chinese visitors. The initiative is in response to a significant enhancement to the airport's Asian route development with the launch of its three times weekly link to Shanghai.
Joining Air China's existing connection to Beijing, the arrival of Shanghai Airlines' service – in partnership with China Eastern Airlines – will increase the Asian market to a potential 80,000 passengers per annum visiting Budapest.
"It's immensely rewarding to see the vision of a long-term project come together and introduce another direct link between Budapest and the Far East," says Jost Lammers, CEO, Budapest Airport. "To become one of the first airports in the region to also help promote our retailers to our Chinese guests is an important resource for us.
"Having the ability to now utilise China's largest payment vendors, Alipay and China Union Pay, at Heinemann Duty Free's stores is a huge step forward. We are further looking forward to extend these services to our other partners at the terminals later this year allowing our growing number of Chinese visitors to be assured that all main stores and restaurants will welcome their familiar payment methods. Coming just a few months after rolling out the BUD Airport Chinese Mobile app, we are well on the way to becoming a Chinese friendly airport," adds Lammers.
Ildikó Jankovich, Managing Director, Heinemann Duty Free at Budapest Airport, also commented: "Chinese travellers are a very important target group for us and we strive to provide an excellent shopping experience for them. We are therefore very excited to launch the leading payment providers Alipay and China Union Pay in our stores. For key Chinese travellers it is of great advantage to be able to use their choice of merchant, which they already use at home, without any currency exchange.
"It is a logical step for us to take advantage of the benefits that these convenient and safe payment methods offer our customers. The payment process is the last stage of their shopping journey and an efficient final transaction procedure leaves a good impression of our brand which in turn contributes to loyalty towards Heinemann."
She added: "For many Chinese tourists and business travellers, purchasing high quality branded goods is an integral part of their journey to Europe. Our Chinese customers are focused on value and they are willing to spend on luxury products and international brands when travelling abroad, where they can often find better prices. In addition, Chinese passengers are increasingly also buying regional products and local specialties such as wines from the popular Tokaj region and fine Hungarian confectionery."
At Future Travel Experience Ancillary 2019 (19-20 June, Istanbul), Budapest Airport's CCO, Kam Jandu, will deliver an update on the groundbreaking BARTA (Brand, Airline, Retailer, Technology, Airport) initiative, which taps into digital technology and forms new commercial relationships between all stakeholders to drive passenger spending both at the airport and onboard aircraft. Find out more here >>