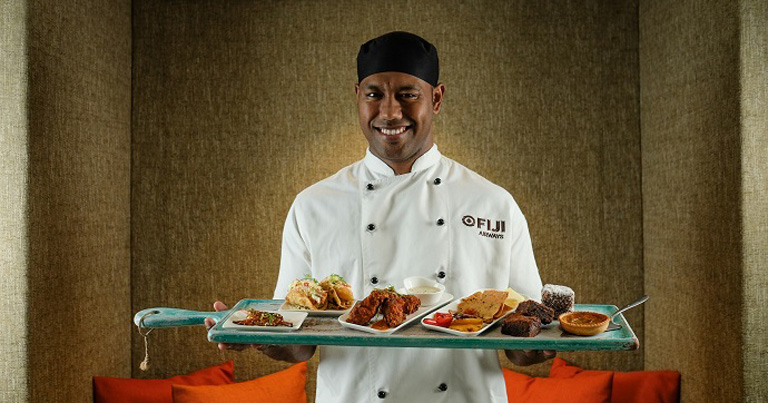 Fiji Airways recently announced the rollout of a new luxury dining experience called 'Dine on the Ground', offering premium passengers a pre-flight gourmet meal to maximise rest while travelling.
Business Class and Premier guests taking either a morning or late evening flight out of the Fijian getaway of Nadi, will now be invited to enjoy breakfast or dinner at the Fiji Airways Premier Lounge shortly before boarding.
Breakfast guests can enjoy barista-made coffee, made-to-order breakfast items, a full bakery and an array of fresh fruit juices. For dinner, signature dishes designed by Fiji Airways executive in-house and guest chefs are also on offer, while meals are complemented by signature cocktails, mocktails, and a full service bar with the exclusive 'Fiji Bean Cart'.
The initiative was launched following research from the airline which found almost a third (31%) of Aussie passengers regularly skip in-flight meals in favour of some extra sleep. As a result, as much as 38% of food was being discarded.
Commenting on this new initiative, Andre Viljoen, CEO and Managing Director, Fiji Airways, said: "While the inflight experience has improved dramatically over the years across all airlines, the way in which food is served hasn't changed too much."
Viljoen added further that: "As an airline, Fiji Airways is all about delivering the best customer experience, so we started to analyse things like food consumption, sleep patterns, and of course feedback from passengers themselves. By moving the dining experience pre-flight, we're not only able to offer a premium experience but we're also able to reduce food waste, while maintaining our excellent in-flight catering."
Onboard, guests will still have the option of choosing a light brunch or supper, which include fruit bowls, gourmet paninis, fresh salads, international style tapas and soups. However, by dining pre-flight, onboard meals better reflect the time of day and allow guests more time for overall rest and relaxation before departure.
The luxury Dine on the Ground experience is now being served up across the following flights out of Nadi:
Brunch:
À la carte brunch:
Nadi – Christchurch
Nadi – Hong Kong
Nadi – Wellington (mid-morning service)
Nadi – Sydney (mid-morning service)
Nadi – Brisbane (mid-morning service)
Supper (flights over 6 hours):
À la carte light dining, followed by a full breakfast:
Nadi – Los Angeles
Nadi – San Francisco