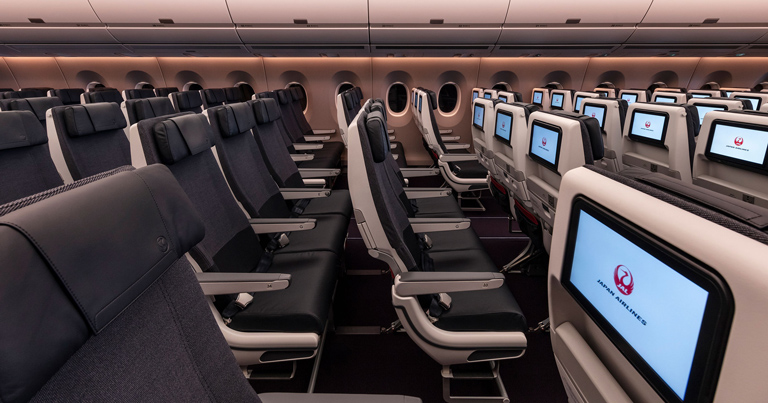 Japan Airlines has unveiled the design for its A350-900, which will be delivered by design consultancy tangerine. The first of JAL's new A350-900 aircraft will take its first flight to Fukuoka from Haneda Airport on 1 September 2019.
In 2013, JAL signed to purchase its first Airbus aircraft for its next-generation flagship. Design consultancy tangerine's brief was to express the essence of JAL through "tradition, innovation, Japanese spirit" in the design of the new fleet, featuring First Class, Class J and Economy Class cabins.
JAL's ambitions were to grow their business and create a lasting impression on both their domestic and international travellers. According to tangerine, the challenge was to create an onboard experience that caters to the tastes of the domestic market, while appealing to the desires of the international passengers that the airline was hoping to attract.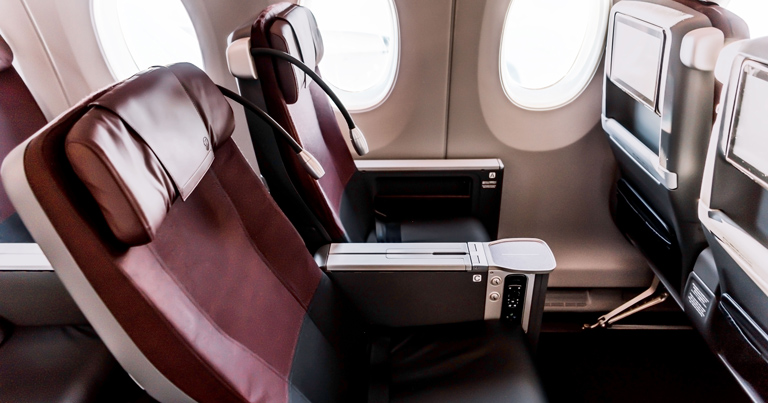 Tangerine has created a design strategy, 'Infused Essence', that captures the essence of Japanese culture and identity, and embodies it in a contemporary travel experience aimed at Japanese and international passengers.
JAL Representative Director and Chairman Yoshiharu Ueki, commented: "The cabin interior expresses JAL with a sophisticated taste. It is a wonderful achievement."
'Infused Essence' is expressed throughout the aircraft ­– from the exterior winglet dipped in JAL red to the welcoming and spacious passenger environment created for the interior.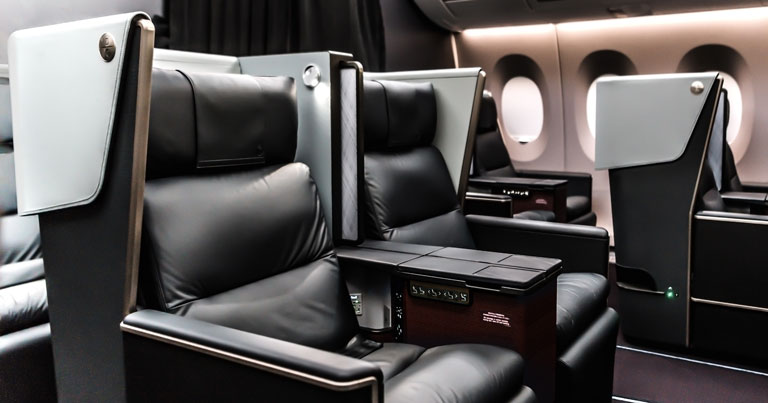 Each cabin interior class has its own distinct identity unified by a single vision for JAL:
First Class
Redefined seat geometry of Jamco First-Class seat to deliver significant improvements in passenger comfort;
Origami inspired pleated bulkhead feature;
Emphasis on craftsmanship in the design of form, materials and textures;
Grain and stitching of the ELeather wrapping over the top of the seat shell creates a distinctive signature for JAL.
Class J
The width of the Recaro seat is emphasised by splitting the seat covers into two distinct colour blocks of burgundy and inky blue-black;
Bold JAL red bulkhead.
Economy Class
When passengers enter the cabin, the impression is composed and monochromatic;
As they turn to sit down, this changes from tones of grey to crisp white, with a flash of red on the seat back literature pocket.
Bathroom
Inspiration came from small Japanese spaces, which often use a combination of dark colours and textures to create a sophisticated space;
Dark brown walls with a metallic copper overprint, mirroring the custom dark brown PU coating applied to the aircraft interior walls;
Colours and textures are contrasted with the pure white of the sink, the pale oak grain pattern on the vanity unit and the subtle lighting on the stone-like floor, creating a serene experience for JAL's passengers.
Tangerine Creative Lead and Head of Japan Business, Yuichi Ishihara says: "Across four years, tangerine formed a deep collaboration with JAL to implement the 'Infused Essence' design strategy. Working with people across different divisions of JAL, we helped to manage the project and the airline's suppliers to ensure a high-quality result."