This month, the Future Travel Experience (FTE) team travelled directly from FTE Global in Las Vegas to APEX EXPO in Los Angeles, which took place on 9-12 September 2019. During the show we explored a comprehensive display of products and solutions designed to elevate the inflight experience. Here we highlight a number of exclusive launches and announcements from the show:
Spirit Airlines' new ergonomic seats
Spirit Airlines is advancing its promise to invest in the customer experience by introducing new ergonomically-designed seats. The new economy class seats, created by Acro Aircraft Seating, integrate state-of-the-art design features, including thicker padding, ergonomically-designed lumbar support and additional pre-recline and legroom. Middle seats will also gain another inch of width, and every seat will gain nearly an inch of pre-recline compared to Spirit's current seating configuration, with exit rows adding even more space.
The new seats, padded with ultra-lightweight foam and made of composite skeleton, will add comfort without increasing weight, maintaining high fuel efficiency across Spirit's fleet.
The new, softer seats include a full-size tray table and an elevated literature pocket and are designed in a matte-black colour with border stitching in Spirit's signature yellow. Installation of the new seats will begin in November and continue through 2020 on all new Spirit deliveries.
In addition, the airline's updated Big Front Seats, delivered in partnership with HAECO Cabin Solutions, will feature a new improved headrest with plush memory foam, additional memory foam in the seat cushion for comfort and thigh support, and sleek Spirit-branded aesthetic with yellow and black stitching.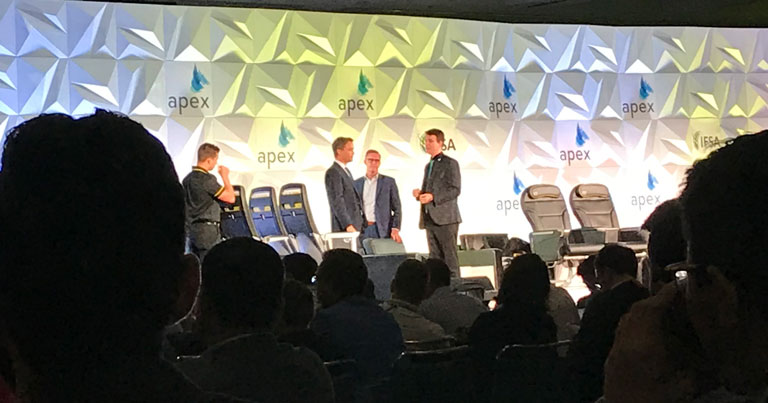 "Last year I signed a pledge to look at every facet of our guest experience and determine where we could improve," said Ted Christie, President and Chief Executive Officer of Spirit Airlines, during his presentation in the conference. "This investment in our seats and onboard experience is a direct result of that commitment, and it also allows us to enhance our product value while maintaining our industry-leading cost structure. We have listened to our guests, and we are responding with these new, more comfortable seats."
Dr. Joe Leader, CEO of APEX, commented: "Spirit Airlines today unveiled a new generation of seats designed to give greater recline, full-size tray tables, more memory foam comfort, enhanced ergonomic comfort, and more knee space to their guests. APEX applauds our airlines for taking genuine steps to advance customer experience, but the best actions by our airlines are when they genuinely give more within existing space as Spirit has done today."
Spirit also shared that it will reveal plans for a new cabin redesign this November, complete with updated branding and a more modern look.
Airbus trials inflight connected cabin technologies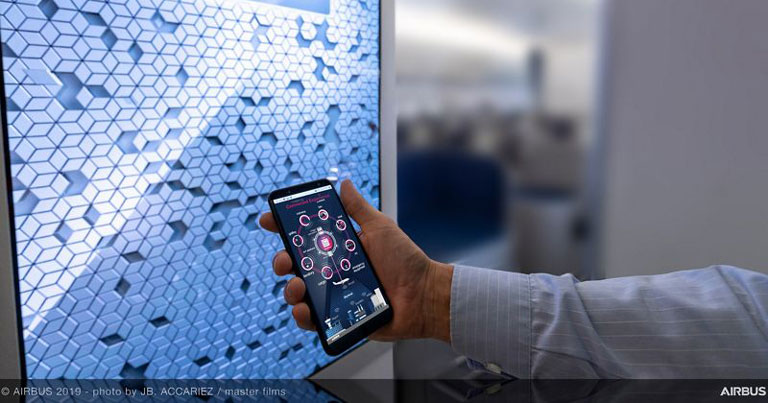 In other news, Airbus has commenced its in-flight trials of IoT (Internet of Things) connected cabin technologies on board an A350-900 Flight Lab aircraft. The platform, known as the Airspace Connected Experience, was unveiled at the APEX EXPO last year. Airbus has stated that it is the first aircraft manufacturer to undertake such flight-testing of actual connected cabin innovations.
The Flight Lab is one of the original A350-900 certification flight-test aircraft, and is fitted with an Airspace cabin which now serves as a platform to evaluate the new connected cabin technologies in flight.
Airbus has partnered with various stakeholders to install an initial set of elements, such as prototypes of the connected iSeat, provided by Recaro; the Connected Galley by gategroup; a remote wireless cabin management control system; a large OLED display and the first step of Airbus' new "IoT backbone" which includes an open software platform.
The connected cabin ecosystem will enable significant value-adding services for passengers, airlines and crew, such as a more personalised experience, additional ancillary revenues, and better working environment.
The in-flight tests are part of Airbus' customer-centric approach, which began with workshops to create and prioritise innovative concepts, followed by an extensive phase of on-ground testing and customer evaluation of the connected elements.
According to Airbus, the next steps will continue testing of the current setup, then close the feedback loop with airlines using Airbus' Customer Experience Teams (CET) forum, by around year-end.
Lufthansa and ANA select Safran Passenger Innovations' RAVE ULTRA programme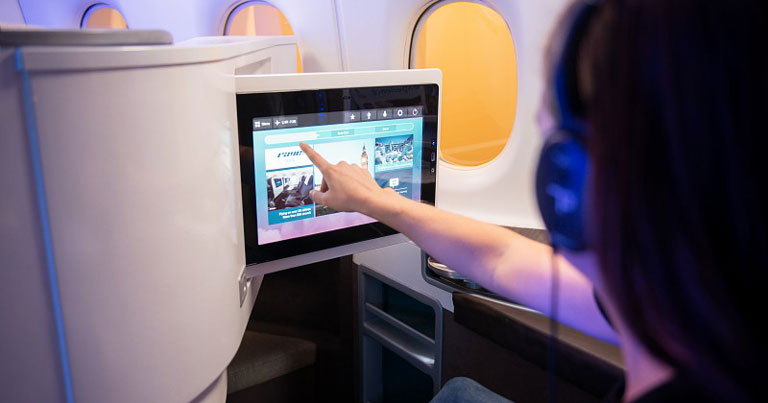 Safran Passenger Innovations, formerly Zodiac Inflight Innovations, was also under the spotlight at this year's APEX EXPO, where the company announced Lufthansa and All Nippon Airways as new customers for its RAVE ULTRA In-flight Entertainment (IFE) and Connectivity (IFC) programme.
RAVE ULTRA is a series of 4K displays in various sizes with edge-to-edge viewing, a slim design as thick as a mobile phone, and integrated Bluetooth audio connecting the entire aircraft at the same time.
Lufthansa will line-fit 34 Boeing 777-9s in four configurations, which include displays with touch-screen controls up to 27 inches. Moreover, all passengers will have the ability to connect their own personal Bluetooth headsets and pair their own devices with RAVE's Second Screen application.
Floris Reimbold, Head of IFEC Technology at Lufthansa Group, commented: "Safran Passenger Innovations continues to set the bar for large entertainment viewing and passenger enjoyment in-flight. The innovation they offer demonstrates Lufthansa's aim for modern and comfortable cabins, perfect service and a positive experience in-flight. RAVE ULTRA complements Lufthansa's strategic direction to deliver each passenger a quality, innovative experience on-board."
The system will also be retrofitted on 11 Boeing 787-8s for All Nippon Airways' (ANA) domestic flights. The first RAVE retrofit aircraft will enter service beginning the first quarter of 2021. Additional RAVE deliveries will continue into early 2022. The ANA B787-8 RAVE ULTRA retrofit programme includes a two-class configuration of First and Economy class seats. The 28 First seats will upgrade to the 15.6-inch display and the 284 Economy seats will upgrade to the 13.3-inch display.
Thales and airfree partner to transform inflight shopping
Thales and airfree, an FTE Startup Hub member, announced their partnership to bring airlines new revenue opportunities by introducing a new e-commerce platform that extends the airport duty-free shopping experience into the cabin.
With the airfree platform, airline passengers receive an elevated onboard shopping experience with faster browsing similar to online shopping at home. Hundreds of airport offerings are seamlessly incorporated into a single marketplace and made available through the inflight entertainment (IFE) system on seatback and personal electronic devices (PEDs). This allows passengers to browse and purchase items from an extensive airport offering in a single place, single session and single payment, with product choices tailored to the passenger route. Passengers can also utilise airline points for payment and enjoy exclusive offers based on frequent flyer status.
The Thales/airfree airline branded marketplace can reduce or even eliminate the logistics, weight, and manpower required for traditional onboard duty-free items, while tremendously increasing passenger choice and airline revenue. With proprietary bandwidth optimisation technology, the airfree platform drastically reduces satellite data consumption compared to traditional technologies.
Thales also suggested that the service will make its commercial debut with a world-leading airline by the end of the year.
Aeromexico's new amenity kits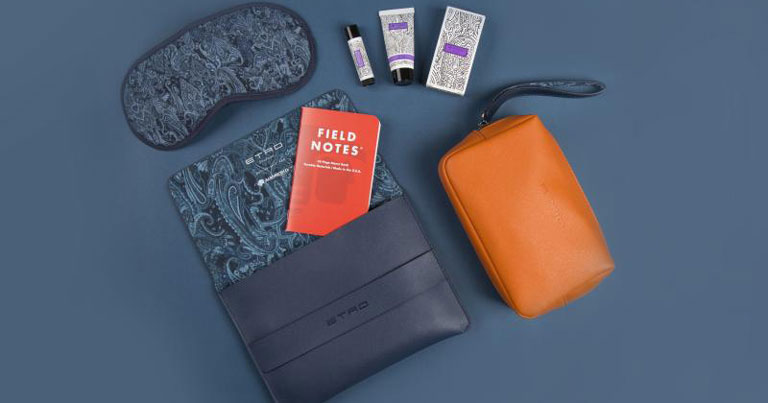 FORMIA, the international guest amenity specialist, revealed that it has entered into an extension of its existing, valued collaboration with Aeromexico. Under the terms of the agreement, from autumn 2019 FORMIA will supply new amenity kits for presentation to passengers travelling in Aeromexico's Business Class cabin, Clase Premier.
In line with its continuous quest for adding value to the airline's proposition, FORMIA is introducing two unique amenity kits by Italian fashion house Etro. FORMIA, together with Etro, has designed two distinct, high quality bags; one a spacious cosmetics bag, the other an elegant, slim pouch. This is the first time the Etro fashion and cosmetic brand will be available on board an airline in the Americas. The amenity kits exterior is made of an elegant, plain coloured material inspired by the Etro's gentlemen's suits, while inside the bags are finished with the brand's signature Paisley pattern fabric.
Among the contents to be found in the kits are a selection of Etro cosmetics and an Etro-branded eye-mask matching the paisley pattern inside the bags. The XL mask illustrates FORMIA's attention to detail and design as well as it ensures far greater comfort and better protection from any sources of bright lights.
Also, inside the kit, passengers will find a Field Notes notebook, specially created for Aeromexico, reflecting the care and attention to detail that has gone into the design and production of these amenity kits.
Viasat and InflightFlix bring destination video guide content to IFE
Viasat and InflightFlix, another member of the FTE Startup Hub, also made a major announcement during APEX EXPO. The two companies have launched a partnership to bring destination video guide content to airlines' inflight entertainment (IFE) systems to help generate new revenue streams for airlines and new opportunities for passengers inflight.
According to research by Valour Consultancy, revenue from advertising, sponsorship, shopping and destination content on IFE is expected to grow from $170 million in 2016 to $1.3 billion by 2026, with destination content representing about two-thirds of the expected total revenue in 2026.
Given this prospect, Viasat has partnered with InflightFlix to help airlines convert traditional inflight destination video content cost to revenue, importantly, at zero cost to the airline.
The partnership centres on leveraging Viasat's wireless IFE (W-IFE) platform coupled with the premium destination video guide content produced by InflightFlix. Content is created specifically for each airline, aligned perfectly to their brand values. A complete set of video guides is created for each destination on the network, produced to a consistent and high-quality editorial format.
Among some of the key advantages expected to be achieved through the partnership are:
Convert IFE costs to new ancillary revenue stream;
Airline earns a significant fixed monthly payment for each aircraft displaying the content;
Automatic targeting of the video guides based on the destination of the aircraft;
Create personalised multi-platform (online, onboard, on social media), informative destination video content to reach, engage and inspire passengers with destination videos;
Increase opportunities to cross-sell routes in-flight and inspire passengers to book flights to other destinations;
Increase airline brand loyalty;
Zero costs to the airline.
Panasonic Avionics' new gaming portfolio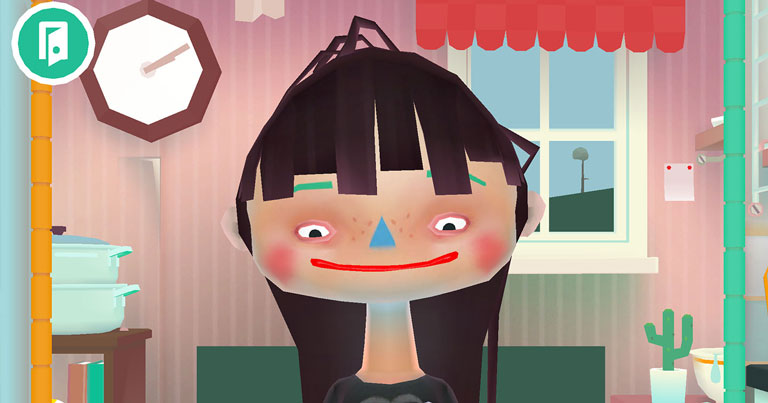 Panasonic Avionics is also upgrading the inflight entertainment experience with the introduction of a new gaming portfolio.
Gaming is Panasonic's latest enhancement to its Theatre IFE solution, and is designed to meet the needs of the 2.4 billion gamers worldwide by offering premium games that are created by globally recognised brands, including Toca Boca and Gameloft.
Panasonic is partnering with major gaming brands and forming relationships with developers to deliver exclusive gaming experiences that are aimed at satisfying diverse passenger interest within this enormous worldwide market.
By introducing Gaming to the aircraft cabin, Panasonic will enhance the passenger experience by helping airlines gain access to a new segment of passengers that are interested in new digital experiences, and offer a better cost-to-value ratio than traditional media, providing a long-lasting value on investment.
Gaston Sandoval, Vice President of Product Management and Marketing, said: "The introduction of Gaming is the latest step in Panasonic's journey to digitally transform the passenger experience.
"We are strategically partnering with leading gaming brands and pairing them with our industry-leading hardware and infrastructure, enabling us to bridge the divide between passenger expectations and airline offerings with the introduction of the next generation of gaming to aviation.
"For airlines, these innovative solutions provide a game-changing way to differentiate themselves in the market, and a unique way to drive ancillary revenue generation."
Burrana's next-gen 4K overhead inflight entertainment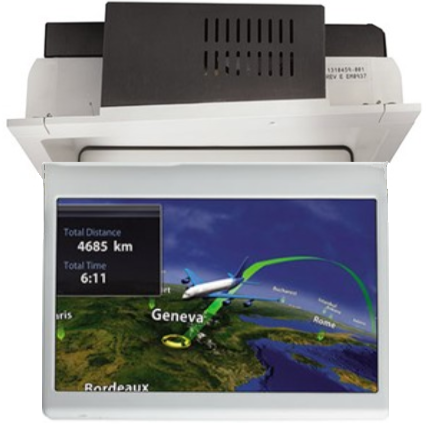 In other IFE news, Burrana announced the development of its next generation ultra-high definition 4K overhead solution.
Each one of Burrana's 13-inch displays will feature the latest in high brightness and high dynamic range LCD technology, which will enable passengers to enjoy wide viewing angles and a crisp picture, regardless of where they're sitting in the cabin. Additionally, the displays will feature anti-glare coating, which will help minimise reflections and the impact of sunlight.
An all-new server has also been developed, which will support 4K entertainment streams for the new overhead displays as well as wireless streaming entertainment to passenger devices. The server will offer 4TB of solid-state storage. This significant enhancement in storage capacity, combined with high compression video streams, will efficiently support larger 4K media files. The system will also utilise USB 3.0 technology, enabling airlines to load content at up to 4.8Gbps – 10x faster than previous generations.
"With over 8.2 million pixels each with over 16 million lifelike colours, the latest generation overhead displays from Burrana will deliver an immersive and unforgettable passenger experience," said David Withers, Burrana CEO.
Next stop: FTE-APEX Asia EXPO, 12-13 November, Singapore – register today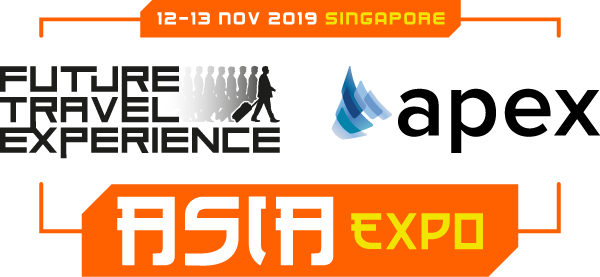 Following the announcement earlier this year that FTE is now a part of the APEX family, we have joined forces to deliver Asia's biggest free to attend passenger experience and business performance expo.
The rebranded FTE-APEX Asia EXPO, which will take place in Singapore, 12-13 November, will be the first meaningful joint effort by FTE and APEX since we announced our integration back in April.
The event will provide an unrivalled platform for the industry's most innovative product, service and equipment providers from across Asia and beyond to showcase their capabilities to help airlines and airports improve end-to-end customer experiences, reduce costs, increase revenues and enhance operational efficiency. In addition, attendees will benefit from high-quality learning across three conference stages.
Among the organisations already confirmed to exhibit are: AirFi, Butterfly Flexible Seating Solutions, Collins Aerospace, Display Interactive, Inflight VR, Inmarsat and Seamless Air Alliance. The event will also include the co-located Onboard Hospitality Forum Asia, which will attract inflight catering, wellbeing, design and innovation specialists.
Register for free today at: https://www.futuretravelexperience.com/fteasia/