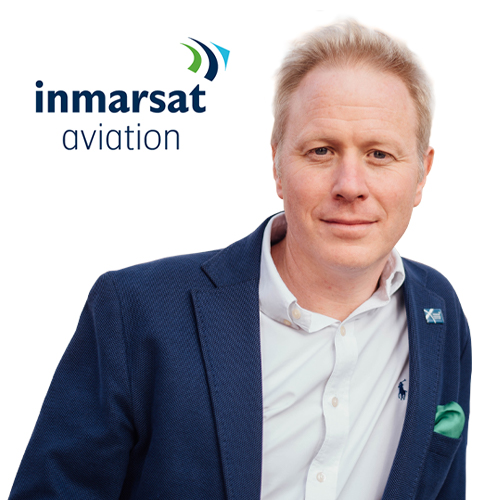 The future of the inflight connectivity industry is bright, with a growing number of airlines seeking to digitise their inflight experience in order to stay relevant. This demand is driving a real step-change in terms of the quality of connectivity on offer.
Working with world-leading airlines and partners, connectivity provider Inmarsat has already activated high-speed, seamless inflight Wi-Fi on more than 1,000 commercial and business aviation aircraft.
FTE spoke to Dominic Walters, Vice President Marketing Communications & Strategy, Inmarsat Aviation, ahead of FTE-APEX Asia EXPO (12-13 November, Singapore). At the event, Walters will be discussing the final instalment of the Sky High Economics report, "Chapter Three: Capitalising on Changing Passenger Behaviour in a Connected World". Sky High Economics is a three-part research study commissioned by Inmarsat and authored by the London School of Economics and Political Science (LSE) to comprehensively model the socio-economic impact of connectivity on the aviation industry.
Walters explains: "This chapter explores opportunities for airlines to adapt to changing passenger behaviour and expectations, in order to enhance customer loyalty in the digital age."
The research has identified a market of 450 million passengers currently unengaged with traditional airline loyalty schemes, who could be driven to switch allegiance for high quality Wi-Fi up in the air. The study has estimated that this can drive a whopping $33 billion share shift – equivalent to 6% of total market share – that can create enormous opportunities for airlines adapting to what Walters refers to as the "always-on" passenger behaviour.
"Adopting a retail mindset"
Vastly changing passenger demographics paired with the growing appetite for connectivity on the ground is driving expectations for a connected and personalised inflight experience.
And so, to stay relevant in this competitive landscape and future-proof themselves, airlines must adapt to the behaviours and expectations of today's passengers in the digital world. While many airlines, such as Qatar Airways, Norwegian and AirAsia, to name just a few, are stepping up their connectivity efforts, there is still much scepticism whether investments in connectivity today will stand the test of time.
Walters explains: "In any industry, you need to innovate in order to grow. For inflight Wi-Fi to be worth the investment, it's critical that airlines adopt a retail mindset and explore the full potential of a connected flight.
"Connectivity has been the heart of digital transformation on the ground in the past decade, and now that we're able to connect the skies in the same way, there are so many possibilities to improve passenger experience and unlock new revenue streams."
Walters also emphasised the power of data and echoed the sentiment that "data is the new oil".
He continued: "The value of the data that passengers are giving from the booking process, during the flight, and after, is a valuable asset for airlines to monetise – whether through targeting offers to passengers based on their route or past preferences, or serving premium content based on viewing behaviour."
Indeed, the LSE predicts that Wi-Fi in the cabin will generate $30 billion in additional revenue for airlines by 2035. "We help airlines to unlock these new revenue streams and explore the many ways that exist for airlines to monetise connectivity in order to offset the cost of investment," he adds.
Currently, Inmarsat has four GX Aviation next-generation high-speed broadband service satellites that are in operation, and the company has shared plans to triple this number, as part of its long-term strategy to develop what Walters says will be "the most agile, flexible, diverse and cost-effective constellation ever conceived".
The fifth GX satellite will be launched later this year, delivering capacity over Europe and the Middle East, which will then be followed by the launch of the GX-6A & 6B satellites in 2020 and 2021, respectively.
The ultra-advanced GX7, 8 and 9 satellites are scheduled to launch from 2023, bringing even more powerful, flexible and scalable capacity, driving enhanced services. GX10A and GX10B, Inmarsat's first Highly Elliptical Orbit (HEO) satellites, are scheduled to launch in 2022 to expand coverage across the Arctic.
"It's important to note that GX is much more than just a satellite network, it's a complete end-to-end solution and we have been equally ambitious in developing our ground stations, hardware, software and cybersecurity framework," Walters points out. "This infrastructure is unique to Inmarsat and has been built specifically for robust and secure mobility."
Asia Pacific leading the way in connectivity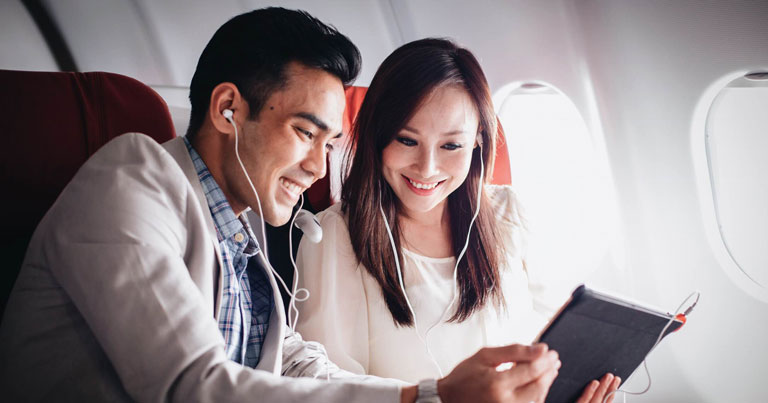 Today, emerging markets for inflight Wi-Fi are leaping ahead in adopting high-speed service that can support fully-fledged inflight digital strategies. Asia Pacific is one of the regions that is currently leading the way. Indeed, Inmarsat's first London School of Economics Sky High Economics report forecasted that the Asia Pacific market is set for the biggest global boost in revenues from passenger connectivity. It predicts airlines in the region stand to gain from a $10.3bn boost in ancillary revenues by 2035.
Inmarsat partners with a number of airlines in the region to help accelerate their connectivity efforts. One instance is the company's work with AirAsia to meet the airline's ambition of becoming a "truly digital airline". "GX Aviation is central to the digital transformation of the airline," explains Walters. "AirAsia's CEO, Tony Fernandes, has been very vocal about his ambitious digital plans for the airline. He recently stated that he wanted 60% of AirAsia's profits to come from digital ventures. Just as Amazon now sells everything from books to food, AirAsia is activating a digital strategy using rich data to better serve its passengers."
Shifting the focus to Europe, Walters points out that the market is expected to gain $8.2 billion in connected ancillary revenues by 2035. Inmarsat currently delivers the European Aviation Network, which is Europe's fastest inflight Wi-Fi, to several airlines. In fact, just a few days ago Vueling became the first low-cost airline to offer the service.
Inmarsat is also currently exploring the use of connectivity to modernise Europe's congested airspace. "In partnership with the European Space Agency (ESA), we're developing the Iris programme to enable high bandwidth, cost-effective satellite-based datalink communications for flight and ground crews," Walters shares. "4D operations enable precise flight tracking and more efficient air traffic management to reduce delays and save fuel, which in turn reduces the environmental impact of air travel."
Looking ahead, Inmarsat predicts that in the next five years, high-quality Wi-Fi will become the norm. "Simply offering Wi-Fi to passengers will no longer be a point of differentiation for airlines," says Walters. "The focus will quickly shift towards a broader consideration of what innovative passenger services Wi-Fi in the cabin can enable, bridging the gap between how passengers engage on the ground and in the air. Airlines will focus on ways in which they can offer a passenger experience that will prove that life at 35,000 feet should be no different than that on the ground."
Key findings from the Sky High Economics report, "Chapter Three: Capitalising on Changing Passenger Behaviour in a Connected World", will be presented by Inmarsat's Dominic Walters at the upcoming FTE-APEX Asia EXPO in Singapore, 12-13 November. During the session, moderated by Joe Leader, CEO, APEX & IFSA, attendees will also hear insights from Jack Mandala, CEO, Seamless Air Alliance; Dr Long Yin, Solution Architect, Data Intelligence Division, Alibaba Cloud Singapore; and Nigel Fanning, Head of Product & Ancillary Revenue, Jetstar Group. Visit the event website to find out more and register to attend: www.futuretravelexperience.com/fteasia/