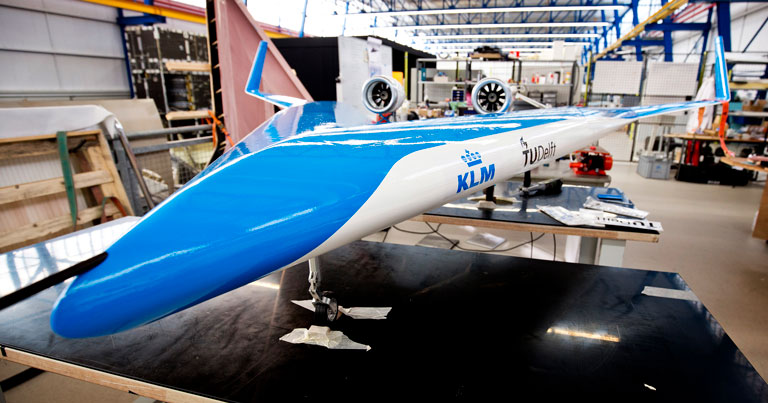 During the KLM Experience Days, taking place throughout October, TU Delft is presenting part of the cabin and a flying scale model of the energy efficient Flying-V aircraft, designed in partnership with KLM.
The V-shaped aircraft design is expected to consume 20% less energy, thanks to its improved aerodynamics and lighter weight. The aircraft is expected to take to the air later this year.
The cabin features an experimental design, with four types of seats, including group seating and foldaway beds in economy class.
The TU Delft Flying-V is one of the routes that TU Delft is exploring in its efforts to make aviation more sustainable. Dean Faculty of Aerospace Engineering Henri Werij commented: "Ultimately, we have to fly solely on sustainable energy. CO2-neutral. I am confident that we will be able to do that."
The designs for the new oval-shaped cabin, developed by Professor of Environmental Ergonomics, Head of Design Engineering Department Peter Vink and industrial design engineer Thomas Rotte, combine lightweight design techniques with passenger comfort.
Vink commented: "The Flying-V can be arranged to suit customer needs, either in the traditional way, as in the current Airbus A350, or radically differently. The aim of our interior concept for the Flying-V is to improve the passenger experience at a lower weight and with passenger numbers comparable to the current Airbus A350.
"Developed together with 80 students of Industrial Design Engineering, the concept includes four types of seating: beds, lounge areas, group seating and individual seats. We take advantage of the oval shape by creating beds and positioning the seats in the flight direction, to avoid passengers sitting shoulder to shoulder."
At the KLM Experience Days and during Dutch Design Week later in October, visitors will have an opportunity to see a full-size section of the Flying-V cabin and try out some of the seating. A patent on the design of the beds has already been applied for.