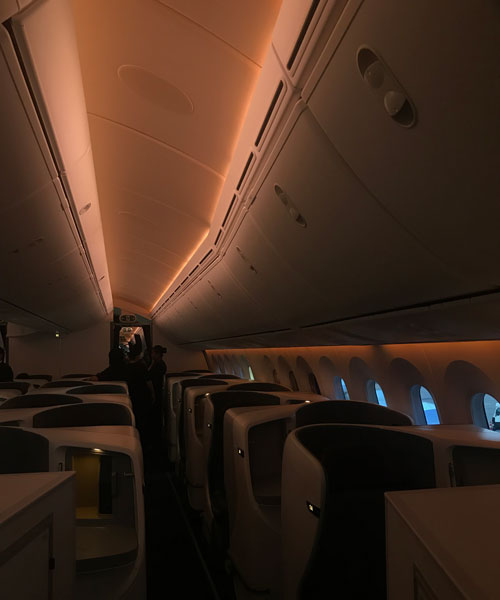 Following the unveiling of the first of six new wide-body aircraft, Vistara is enhancing passenger wellbeing and reducing jetlag with the introduction of new customised lighting on its Boeing 787-9 Dreamliner.
The customised lighting scenes have been jointly developed by Vistara and FTE Innovation & Startup Hub member jetlite, with the support of Boeing, by also considering corporate design, cultural background and effect on colours, material and finishing.
Vistara is Asia's first airline to adopt jetlite's cabin lighting on board, joining premium airlines such as Lufthansa to place greater focus on the positive effects of lighting on the human body.
jetlite's Human Centric Lighting offers a counteraction to jetlag, by reducing travel-related fatigue and brining wellbeing of passengers into focus. According to the startup, adjusting light colour and intensity throughout the flight, encourages passengers to adjust sleep schedules and arrive well-rested and less jetlagged.
Vinod Kannan, Chief Commercial Officer, Vistara, commented: "Since inception, Vistara has focused on delivering an exceptional inflight experience that enhances our customers' wellness. Cabin lighting is one of the elements that makes this possible and we are delighted to partner with jetlite for their cutting-edge Human Centric lighting. This will help us to take the Vistara flying experience to the next level for travellers."
Dr. Achim Leder, Co-Founder and Managing Director at jetlite, also commented: "Vistara´s lighting scenes by jetlite are based on the findings of Human Centric Lighting and chronobiology, backed by extensive research studies and real test flights. Apart from that, jetlite customises Human Centric Lighting solutions individually for each airline, taking factors such as corporate design, the effect on CMF (colours, material and finishing) and cultural background into consideration."