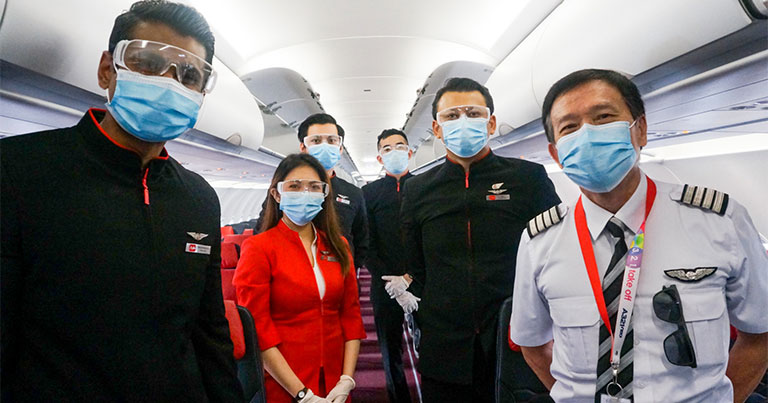 AirAsia has introduced a number of measures to help protect the health of passengers and staff members. The low-cost carrier, which resumed domestic operations in Malaysia on 29 April, is planning to gradually increase its flights amid the ongoing global COVID-19 pandemic.
The airline says it is working closely with regulators, local governments, civil aviation and health authorities, including the World Health Organisation (WHO) and the International Civil Aviation Organisation (ICAO), and adhering to their expert advice.
Passengers are required to bring their own mask and wear it before, during and after the flight, including during check-in and bag collection. Anyone without a mask will be denied boarding.
Only one piece of cabin baggage is allowed per passenger, and all customers are advised to arrive at the airport three hours before departure to allow enough time for all necessary processes to take place.
Pre-flight:
Temperature screening will take place at different checkpoints, including boarding gates

Cabin crew will go through temperature checks after every shift

Social distancing will be observed with floor markers at queuing areas, including check-in counters and kiosks

Alternate check-in counters will be opened to keep social distancing

Hand sanitisers will be available for guests and staff

The aircraft cabin will be disinfected via aerosol spraying before departure of all flights

Pre-flight briefings on safety and hygiene will be conducted for all boarding cabin crew to ensure they are consistently following the most up-to-date advice

Contactless web and mobile check-in will help to reduce surface and physical contact in the check-in and boarding processes
Inflight:
All AirAsia aircraft are fitted with HEPA filters, which filter out particles and airborne contaminants

All cabin crew will wear protective equipment including masks and gloves

Food safety – all meals are produced and packaged hygienically following strict food safety requirements; all production staff will regularly be monitored on COVID-19 guidelines; and cabin crew handling menu items will wear disposable gloves

Cabin crew are trained to assist with any medical situation inflight including identification and isolation of anyone onboard who may feel unwell

Temperature checks will occur before arrival to destinations where temperature screening is mandatory
Arrival:
Health declaration forms will be handed out to be filled out before or on arrival

Thermal screening will take place upon arrival

Transit passengers will be asked to stay at the airport

Mandatory quarantine may take place as per regulations at the destination country
In addition, all aircraft will undergo disinfection including a deep clean using cleaning agents in accordance with the Airbus Aircraft Maintenance Manual (AMM) performed by a professional cleaning team. Every night stop, aircraft undergo a thorough two-hour cleaning process, in compliance with instructions from health authorities.
The circumstances surrounding COVID-19 are continuously evolving. Our friends at APEX have a dedicated COVID-19 page, which they'll be updating regularly to help keep you up-to-date on how the novel coronavirus is impacting the aviation industry. Visit the page for the very latest news >>