The past two months have seen a period of historic turmoil for the aviation industry, and as air travel is slowly resuming in some countries, airlines and airports are gearing up for the rebound. In order to ensure a safe, secure and consistent travel experience, air transport executives are reimagining every step of the journey.
The second in a series of webinars delivered by FTE and APEX took place on 20 May and zoomed in on the post-COVID-19 cabin experience. A panel of industry leaders comprising Dr. Joe Leader, CEO of APEX & IFSA; Dan Freeman, Director – Payloads and Engineering, Boeing; Akira Mitsumasu, VP, Global Marketing at Japan Airlines; and Fabio Gamba, Director General at the Airline Caterers Association, participated in the discussion, which was moderated by Julie Baxter, Editor of Onboard Hospitality, and Jon Norris, Vice-President – Marketing, FlightPath3D.
Here, we share some of the key takeaways:
Airline strategies to "Flight Back" against COVID-19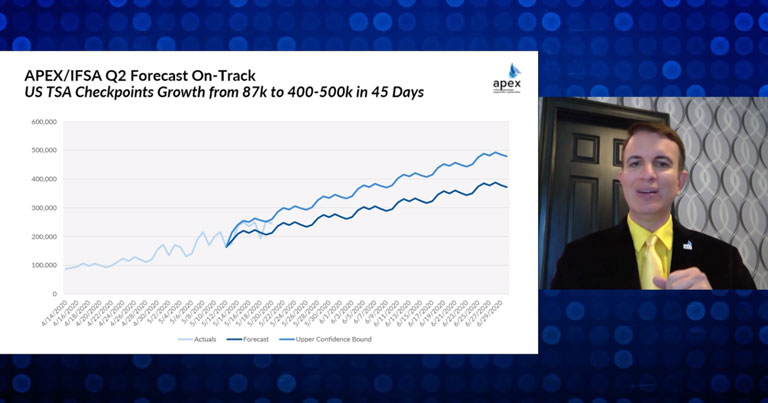 Dr. Joe Leader, CEO of APEX & IFSA, delivered a scene-setting presentation on some of the recommendations from APEX to "Flight Back" against COVID-19. Leader highlighted some core rules that airlines should follow during the COVID-19 downturn, including proactively engaging customers; eliminating hold times; automating customer service through leveraging airline apps, websites and chatbots; emphasising compassion; inspiring customers for retention; and digitally empowering front-line airline professionals.
He said: "COVID-19 is a transformational moment for our industry. Airlines that leverage digital and data to serve with care will be the ones that succeed first in the "Flight Back" for our industry."
Referencing a recent Washington Post article entitled "Airplanes don't make you sick. Really", Leader pointed out: "A lot of the fear around flying is perception. A highly contagious virus on an airplane has an infection risk factor of 1 in 10,000 to 1 in one million with 169 passengers onboard." He also stressed: "Masks reduce that small risk tenfold. By taking these steps and fighting back with facts we have an incredible opportunity to educate the global marketplace."
Leader also shared APEX & IFSA's Q2 forecast and highlighted the positive growth in US passenger traffic from 87,000 passengers recorded by US TSA checkpoints on 14 April 2020 to over 250,000 passengers on 10 May 2020.
Post-COVID-19 aircraft cabin interiors
The discussion then steered into the specific segments of the inflight passenger experience, including cabin interiors, passenger wellbeing and sanitisation, catering, and IFEC and technology.
Focusing on the key changes in the cabin interior post-COVID-19, Dan Freeman, Director – Payloads and Engineering, Boeing, said: "From an OEM perspective, we really focus on making sure we have designs that can be cleaned and disinfected easily, materials that are robust and technology that supports the mission of the airlines.
"Our goal is to provide design and the best possible product that best meets airline customer needs, so that they can serve the passengers. We are working with them on custom solutions in order to make sure they can meet their mission."
Freeman also laid out his vision for the future of the aircraft cabin which would be carried out in gradual phases. "The first phase right now is to help the airlines and ensure they have all the right approved procedures. It's mostly how we prepare the operation of the airplane in order to make sure we are serving the passengers.
"Shortly after this, we will be introducing upon request simple cabin additions, such as hand sanitisers. Next after that we are developing new technology that can help improve sanitisation, including UV light, antimicrobial coating and other technology that we can implement as part of the design of the cabin that will help the use of the airplane that much more efficient for our customers.
"And finally, over the longer term we will continue to look into new materials and new designs that can be easily disinfected to provide a safe and sanitary journey."
Akira Mitsumasu, VP, Global Marketing at Japan Airlines, shared some of the near-term changes that the airline is introducing to the cabin. JAL has already implemented social distancing measures inflight by blocking adjacent seats, and the airline is currently looking into the feasibility of having seat partitioning screens on business and economy seats. However, Mitsumasu pointed out that this would require certification and time before it can actually be implemented. Additionally, the airline is working on accommodating new measures in the cabin to allow passengers to wash their hands more frequently.
Addressing the need for a different approach between domestic and international fleets, Mitsumasu said: "I do anticipate some differences between domestic versus international. Most of the measures we are planning require time and involve investment. So, we would likely start with flights that have a greater urgency and need, especially international long-haul flights, where customers spend a longer time inflight. But of course, if there are quick and easy to implement solutions we would be happy to implement those on our domestic routes as well."
Addressing aircraft sanitisation and hygiene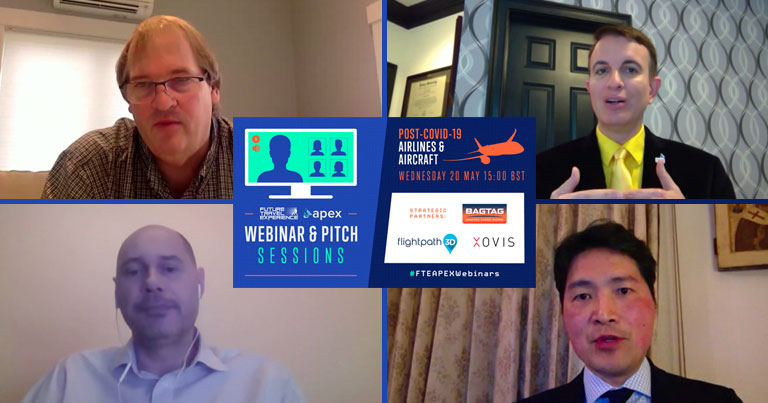 Inflight hygiene and sanitisation were already a concern for many passengers even before the COVID-19 pandemic. However, with a tight turnaround between flights, especially on low-cost and short-haul flights, addressing this has now become an obvious priority.
Mitsumasu explained: "Aircraft cleanliness is certainly a part of the new normal. In terms of challenges of turnaround cleanliness, the first challenge is deciding what needs to be done and can be done both at the home base hub airports, where usually one has more control, and also at oversees stations where the work often depends on the capabilities and resource of the ground handling cleaning company.
"A bigger challenge would be to secure proficient ground time needed to complete the desired cleaning task. Needless to say that there are a couple of very hard trade-off decisions that affect aircraft utilisation and fleet planning. Not to mention the fact that it is not at all easy to change departure and landing time slots."
He also said that this is a good opportunity for airlines to reconsider offering products such as blankets, duvets and pillows. "In our case we will continue to provide packaged, clean bedding items on international flights, but on domestic flights we will be suspending this service, as we cannot fully meet these expectations."
Moreover, the recommendation to make the wearing of face masks mandatory – for passengers and crew alike ­– has been widely adopted and airlines are developing PPE (personal protective equipment) packages for their crew to support inflight service hygiene. In turn, some amenity kit suppliers are already pivoting away from luxury brands towards creative and attractive amenity kits filled with PPE and hygiene products.
Inflight service is a key differentiator for airlines and they will have to quickly reconsider their food & beverage and inflight retail offering to support and strengthen their brand proposition. So, what could inflight catering look in a post-COVID-19 era?
Fabio Gamba, Director General at the Airline Caterers Association, believes that getting food onboard is going to be a key part of the recovery. He said: "There are two things here – the fear with regards to the food itself and whether the food is a factor of any infectious disease, and there is also the way the food is being brought to the passenger.
"In times when we are trying to restore confidence, I think that it is extremely important that we keep in mind what human touch in the journey we can bring. And definitely food & beverage is part of that human touch that you may find on an otherwise long and perhaps sometimes dull journey. It is crucially important that the passenger feels comfortable and one of the ways to achieve this is to serve them great food."
As an airline with a strong reputation for its service and hospitality, Mitsumasu then went on to share Japan Airlines' catering strategy. "Our inflight meals have not changed much partly because in economy class our main dish and cutlery are already packaged and sealed. However, in countries where we have received government directions to have additional food safety measures, we work with our catering company to comply with these requirements. In the short-term we might see some measures such as inflight social distancing so that people can eat freely, or serving meals by zones such as in economy to serve window seats followed by aisle seats. There really is no 'silver bullet' that could solve all the problems. There would be a lot of trial and error to work out what is most feasible and practical as we emerge from COVID-19."
Investments in IFEC and digital transformation
The discussion then focused on how COVID-19 will impact the supply and use of connectivity onboard. While the demand for such services will still exist from a passenger perspective, will it still be a priority for airlines who are already facing financial difficulties, and will offering free inflight connectivity be harder to justify?
Leader expressed his conviction that airlines will continue to offer and implement onboard connectivity services. "The one difference is that when airlines are financially stressed, they would want to make sure they provide connectivity to passengers that are willing to pay for that connectivity. Even airlines like Emirates that are historically offering free connectivity for their business and first-class passengers, have announced that they are moving to a pay-as-you-go model, which simply means that they want people who value the connectivity and are willing to pay for it. This means slowing the process of connectivity being offered for free until airlines are in a stronger financial health."
In terms of implementation, he said that it will continue at the same rate. "We have seen some pullback on capital expenditure, but one of the things I have asked airline executives is whether they will use the fleet downtime to upgrade their aircraft to use more connectivity and the answer is "yes"."
According to the results from the second part of the FTE/Fast Future COVID-19 report, some of which were also unveiled during the webinar, 62% of organisations believe that COVID-19 will accelerate innovation and digital transformation projects. Commenting on this, JAL's Mitsumasu said: "In my opinion, innovation and digital transformation projects will be accelerated post-COVID-19 but to a certain extent. Airlines are currently in a very stark situation. Many airlines would like to invest into digital transformation, but many would not be able to do so. At least not now until a pre-COVID-19 level. So we need to focus on what matters now. At Japan Airlines we had to park aside many new digital transformation projects for now and focus on ones that we had already started off and are close to completion and are related to customer experience. Industry-wide, while cleanliness is still on top of our awareness, there would be focus on contactless solutions."
A look into the 2030 cabin
Looking ahead, Boeing's Freeman said that he doesn't expect to see any fundamental changes to the aircraft cabin design, however there would be some incremental improvements. "Changing the architecture of the cabin is very difficult. I don't see a futuristic change in a decade, but I see this constant evolution that aircraft are going to provide a service that is safe for the passenger and crew, while it is differentiated to serve the airlines' needs in order to serve the passengers."
From a food & beverage perspective, Gamba predicts three major changes. "The first one would be related to the food itself. People would prefer food that is traceable and trackable. They would want a bit more information of what it is that they are eating. In terms of waste, there would be legitimate expectations to have more sustainability in the way the cabin waste is being treated. And the third part is the way the food is being distributed and brought to the passenger."
Expanding on the topic of sustainability, Mitsumasu added: "I hope that the 2030 cabin will be more environmentally friendly. For example, having everything pre-selected and pre-loaded, so that we don't have to load anything that customers do not want and need, and by doing so being more environmentally friendly."
Stay tuned for more coverage of the FTE APEX Post-COVID-19 Airlines & Aircraft webinar from FTE and APEX Media, including interviews with Ted Christie, President & CEO, Spirit Airlines, and Topi Manner, CEO, Finnair.