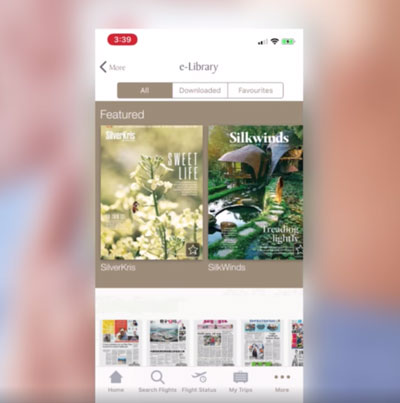 Singapore Airlines has made the contents of its extensive e-Library available to all customers, via the SingaporeAir mobile app, in response to the Covid-19 pandemic.
This initiative, which has been developed in partnership with digital content provider Media Carrier, allows customers to download over 150 international newspapers, magazines and other reading materials for free to their mobile devices, wherever and whenever they choose.
These titles were previously only available to customers 48 hours before and up to 30 days after their flight departure.
The e-Library is designed to cater for a wide range of interests, with well-known publications covering a range of topics, including sport, leisure, technology and politics. Of particular interest during the current UK situation may be men's and women's interest magazines, gardening and food/recipe publications, along with over 40 wellness-related short articles.
For example, the wellness content includes expert guides on topics such as ways to de-stress, meditation, healthy eating and exercise tips.
In addition, the e-Library content features UK specific and English language materials, as well as publications in more than 10 international languages, including Chinese, French, German, Italian, Japanese, Russian and Spanish, targeted at foreign language students seeking to improve or maintain their language skills during this time.
Sheldon Hee, General Manager UK and Ireland, Singapore Airlines said: "The COVID-19 outbreak has caused unprecedented disruption across the globe and touched pretty much every aspect of people's daily lives. We recognise that people are not currently able to travel with Singapore Airlines, so we wanted to gift a little bit of the Singapore Airlines onboard experience to people at home. We hope that the extra reading materials can help fill any spare hours in the time before we can welcome customers back to the skies once more".
Customers can download unlimited publications in the e-Library for free until 30 June 2020, with the content regularly refreshed to ensure that the latest editions continue to be available. After 30 June 2020, users of the SingaporeAir mobile app can continue to enjoy any publications already downloaded.
Media Carrier has also partnered with Lufthansa to create a similar initiative, allowing the airline's frequent flyers to get access to digital publications, such as newspapers, magazines and journals, which are usually only provided when flying.
The circumstances surrounding COVID-19 are continuously evolving. Our friends at APEX have a dedicated COVID-19 page, which they'll be updating regularly to help keep you up-to-date on how the novel coronavirus is impacting the aviation industry. Visit the page for the very latest news >>