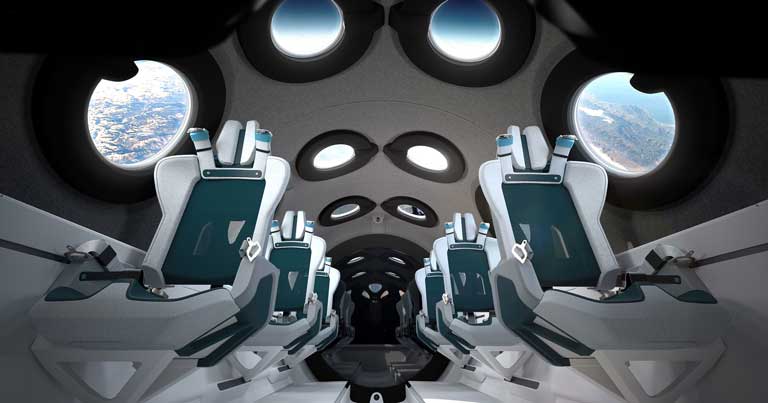 Virgin Galactic, a vertically integrated aerospace and space travel company, has revealed the cabin interior of its first SpaceshipTwo vehicle, VSS Unity in a virtual event streamed live on YouTube.
Virgin Galactic has worked with London design agency Seymourpowell on the six-person cabin interior, described as "an elegant but progressive, experience-focused concept".
The individually sized seats have been created using the highest-grade aluminium and carbon-fiber manufacturing techniques, as well as engineered foam and technical fabrics to ensure comfort.
According to Virgin Galactic, each seat has been engineered to match the dynamism of the flight, including a pilot-controlled recline mechanism that optimally positions astronauts to manage G-forces on boost and re-entry and frees up cabin space to maximise an unrestricted astronaut float zone when in zero gravity.
The cabin also features automated mood lighting, a concept pioneered by Virgin, which harmonises with each flight phase through multi-colour LED lights concealed within the 'Halo' windows. As the Earth comes into view against the black sky of space, all lighting in the cabin will be turned off to bring into focus the planet Earth below.
Moreover, seatback screens provide digital flight data to connect each astronaut to the flight deck. Personal, integrated communication systems complement the screens with a direct connection for each astronaut to the two space pilots.
Virgin Galactic says that SpaceShipTwo's cabin was deliberately sized to allow for an out-of-seat weightlessness experience for the astronauts on board. The interior design focuses on this critical part of the experience with soft cabin surfaces and elements that become intuitive to hold, allowing astronauts to explore the cabin freely and fully.
There are a total of 17 windows throughout the interior, with each of the passenger-accessible windows rounded with a soft material "halo", which allows astronauts to position themselves for a 360-degree view.
Virgin Galactic has also implemented 16 cabin cameras, plus those in the cockpit and some mounted externally, which will generate high-definition images for the astronauts to share on social media.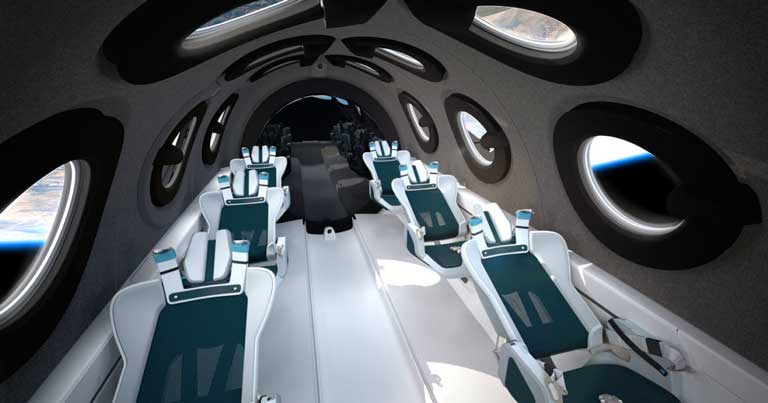 To further elevate the experience of floating in zero-gravity, the cabin includes a first for space travel, a large, circular mirror on the aft bulkhead which, by adding a tint to the reflective surface, allows astronauts to view themselves weightless while illuminated by the natural brightness of the Earth.
Michael Colglazier, CEO of Virgin Galactic, said: "In just my second week as Virgin Galactic's CEO, it is with great pride that I can lead our talented teams in revealing this latest milestone in our journey to space. The spaceship cabin interior is in many ways the design centrepiece of the astronaut journey and what has been created will both facilitate and elevate a uniquely profound and transformational journey for the thousands who will fly. The fascination with spaceflight is universal and Virgin Galactic is here to satisfy it. We are particularly proud to be able to share this latest milestone with millions around the world, particularly during these unusual times. We hope the new app, with cutting-edge AR technology will help bring the dream of space one step closer for space enthusiasts everywhere."
Richard Branson, Founder of Virgin Group, also commented: ''When we created Virgin Galactic, we started with what we believed would be an optimal customer experience and then built the spaceship around it. We will continue with that ethos as we expand our fleet, build our operations and underpin Virgin Galactic's position as the Spaceline for Earth. This cabin has been designed specifically to allow thousands of people like you and me to achieve the dream of spaceflight safely – and that is incredibly exciting.''
Aspiring astronauts and space enthusiasts around the world, now have the opportunity to explore the Virgin Galactic cabin design and spaceflight experience through an augmented reality enabled mobile app, which is available to download for free at both the App Store and Play Store.
Currently, there are 600 individuals who have paid the deposit of $1,000 to take a ride on Unity, however, according to a BBC News article, Virgin Galactic has to work through a list of "verification and validation" milestones before it can welcome passengers aboard.