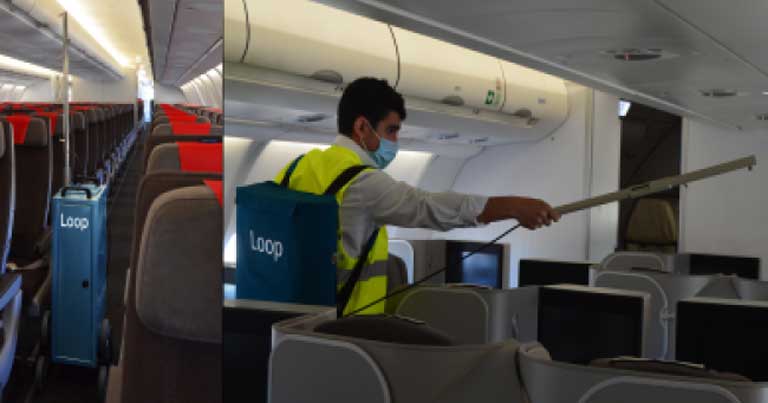 Iberia has adopted a number of innovative and sustainable solutions for aircraft disinfection to enhance hygiene on board and prevent the spread of COVID-19.
For sanitisation of its short- and medium-haul fleet, Iberia is working with its service provider Multiservicios Aeroportuarios (MASA) to deploy new electrostatic pistols that shoot a fine powder, disinfecting even the most inaccessible parts of armrests, headrests, folding trays, toilets and other cabin areas.
For the daily aircraft deep clean, the airline has partnered with Spanish start-up AirlineLoop, which has designed an easy-to-use and energy-efficient aircraft cabin disinfection system. All exposed surfaces are sprayed with a disinfecting liquid that dries almost instantly.
According to the airline, the new cleaning and sanitising procedures comply with the international standards set by EASA and IATA, and are certified by Airbus and Boeing. The cleaning techniques use a variety of pulverisable biocides and are being deployed as a supplement to the pulverisers routinely used by Multiservicios Aeroportuarios to clean Iberia Group aircraft in Madrid Airport.
Iberia has also switched to cleaning cloths and mops that are made with 100% bamboo fibre, which are tougher, more elastic, and recyclable. They also block the proliferation of bacteria and microorganisms, as well as bad smells.
The circumstances surrounding COVID-19 are continuously evolving. Our friends at APEX have a dedicated COVID-19 page, which they'll be updating regularly to help keep you up-to-date on how the novel coronavirus is impacting the aviation industry. Visit the page for the very latest news >>