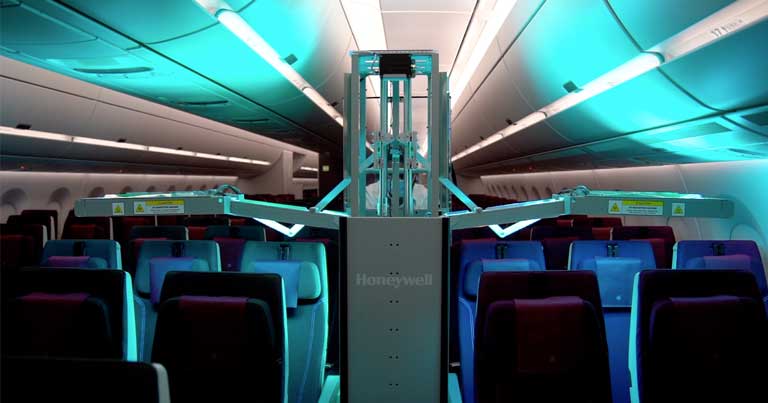 Qatar Airways has adopted six ultraviolet (UV) cabin cleaning systems, developed by Honeywell, further advancing its hygiene measures onboard.
According to the airline, clinical tests show that UV light is capable of inactivating various viruses and bacteria when properly applied.
The Honeywell UV Cabin System is roughly the size of an aircraft beverage cart and has UVC light arms that extend over the top of seats and sweep the cabin to treat aircraft surfaces without using cleaning chemicals. According to Honeywell, the cabin cleaning system can treat an aircraft cabin in less than 10 minutes.
The devices have undergone comprehensive testing onboard Qatar Airways aircraft, before entering service. The airline aims to acquire additional units in the near future, in order to operate them onboard all aircraft turnarounds at Hamad International Airport (HIA).
Qatar Airways Group Chief Executive, His Excellency Akbar Al Baker, said: "We are pleased to be the first global airline to operate the Honeywell UV Cabin System onboard our aircraft. In clinical tests, UV light has been shown to be capable of inactivating various viruses and bacteria when properly applied at specified doses.
"During these unprecedented times, the health and safety of our crew and passengers continues to be of the utmost importance. Since the start of the pandemic, we have been regularly introducing new and effective safety and hygiene measures onboard our aircraft, based on our unparalleled expertise of flying consistently throughout."
Honeywell Aerospace President EMEAI James Currier also commented: "Honeywell has technology today that can make air travel safer – from the traveller to the airport worker, throughout the airport and onboard the aircraft. We're working across business lines to develop new products such as Honeywell ThermoRebellion, a new temperature-monitoring solution – Environmental Control System Check, which allows airlines to monitor air flow in the cabin, and an array of Personal Protective Equipment. All this allows for cleaner and safer airports."
The airline says that the Honeywell UV Cabin System will be utilised as an additional step after manual disinfection, to ensure the very highest standards of cleanliness. The airline's onboard linen and blankets will continue to be washed, dried and pressed at microbial lethal temperatures, while its headsets are sanitised after each flight. These items are then sealed into individual packaging by staff wearing hygienic disposable gloves.
In July, JetBlue also launched a 90-day trial of eight Honeywell portable ultraviolet-c light (UVC) device, while Qatar Airways has become the first to adopt the devices.
The circumstances surrounding COVID-19 are continuously evolving. Our friends at APEX have a dedicated COVID-19 page, which they'll be updating regularly to help keep you up-to-date on how the novel coronavirus is impacting the aviation industry. Visit the page for the very latest news >>