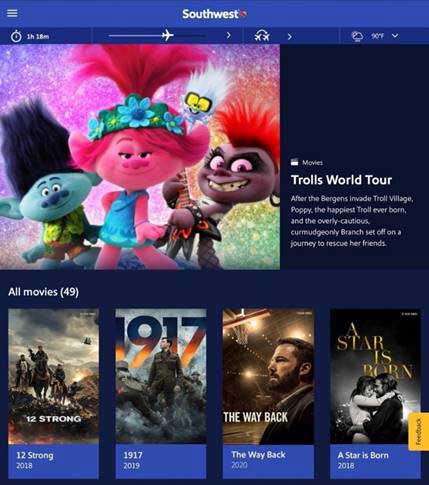 Southwest Airlines is launching a series of improvements across its Inflight Entertainment Portal, which will allow customers to stream inflight content without having to download an app before they board. Passengers will be able to stream content directly to their smartphone, laptop or tablet, using the carrier's IFEC portal, powered by Global Eagle.
Hollywood movies and TV series protected under Digital Rights Management (DRM) can now be played on Southwest's Inflight Entertainment Portal via selected iOS, Android or Windows operating systems on selected browsers. Global Eagle utilises the latest media encryption standard – Common Media Application Format (CMAF) – to reduce encoding requirements so that multiple DRM technologies can be used on a single video file.
Per Norén, President, Global Eagle, said: "At Global Eagle, we are passionate about providing airlines and their customers with seamless access to inflight entertainment. This release enhances the customer experience, helping to drive engagement and consumption of onboard content and connectivity."
As part of the series of updates, Global Eagle is also introducing Cinemagraphs to the Southwest Inflight Entertainment Portal, displaying an animated movie poster to further engage customers.