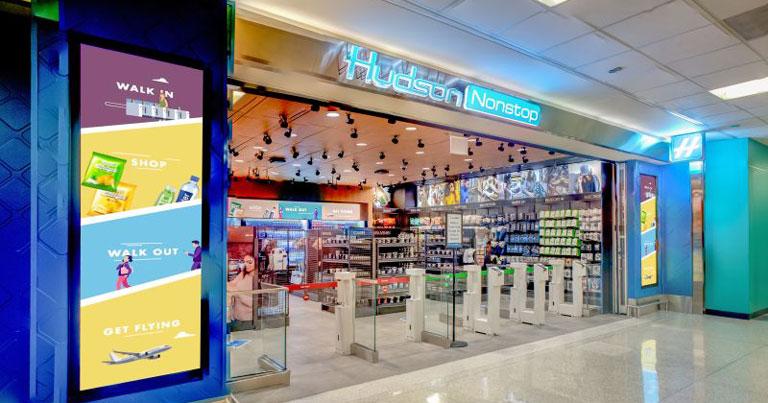 A new Hudson Nonstop store has opened at Chicago Midway International Airport (MDW), using Amazon's Just Walk Out technology. The opening at MDW is the second Hudson Nonstop store using Amazon's technology, following the inaugural store opening at Dallas Love Field Airport in March 2021.
The 1,000-square-foot store, located at Concourse B Gate B19, is the largest Hudson Nonstop store to date. By inserting or tapping a credit card, travellers can enter the store, pick up their products, and quickly exit, avoiding any checkout queues.
"I'm incredibly proud of our team for delivering not one, but two Hudson Nonstop stores in the past six months," said Brian Quinn, Executive Vice President and Chief Operating Officer of Hudson. "With the opening of Hudson Nonstop at MDW, we're continuing to expand our digital retail footprint, bringing travellers personalised and contactless shopping environments through innovative technology. We want to thank the Chicago Department of Aviation (CDA), Midway Partnership, and the local airport community for embracing this innovative new concept, and look forward to our continued success and partnership ahead."
A Hudson team member will be available to assist customers with any questions they might have. Once a credit card has been inserted or tapped at the entry gates, travellers enter the store and can purchase a wide variety of items, such as travel basics, food and beverages, health and beauty products, souvenirs, electronics, as well as toys and accessories.
"The safety and well-being of the travelling public is our top priority as we welcome passengers back to Chicago's airports," said Jamie L. Rhee, Commissioner of the Chicago Department of Aviation. "We're delighted to offer a streamlined, contactless concessions experience at Midway with Hudson Nonstop, which lets travellers shop without slowing down for a checkout line, thanks to Amazon's Just Walk Out technology."
"The arrival of Hudson Nonstop to Chicago Midway is a milestone to celebrate for our entire airport team and our passengers," added Sammy Patel, Chief Executive Officer, Midway Partnership. "Alongside our local restaurants, global brands, and mix of retail options, Hudson Nonstop is a fantastic innovative addition to Midway's concession lineup and further boosts the guest experience at Chicago's neighbourhood airport."
As FTE previously reported, Hudson plans to roll-out additional stores in airports across North America in 2021, making contactless shopping opportunities more widely accessible for travellers.