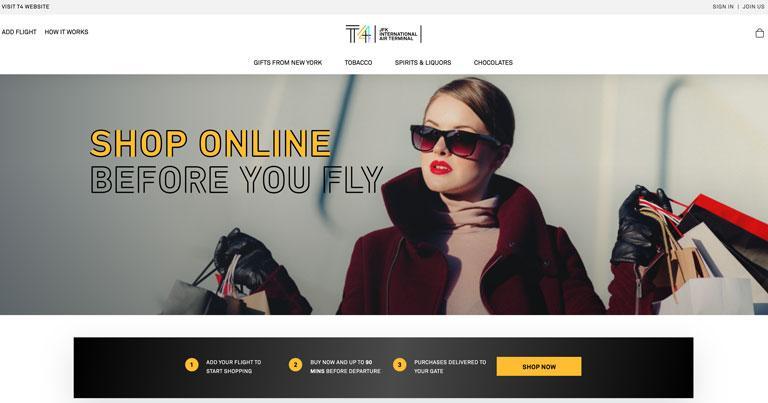 JFK International Air Terminal (JFKIAT), operator of Terminal 4 at John F. Kennedy International Airport, has launched a branded digital marketplace for duty free shopping.
The e-commerce offering, developed in partnership with Inflyter and DFS Group, enables travellers flying through T4 to purchase duty free items online before arriving at T4, or while waiting for their flight.
Customers can visit the website, place their orders, and complete payment before arrival or while waiting for their flight to depart.
Purchases will be delivered directly to the gate and passengers will receive their items just before they enter the aircraft. The digital marketplace has been designed to enable a contactless and fully digital purchase process, creating a safer and more seamless journey for customers and employees.
"JFKIAT has continued to innovate T4's offerings to ensure our customers have a seamless experience from curb to gate, and we are proud to partner with Inflyter and DFS Group to launch one of the first digital duty free marketplaces in a US airport terminal," said Roel Huinink, President & CEO of JFKIAT. "In the wake of the pandemic, it is critical for our customers and employees to feel as safe as possible, and ensuring contactless experiences is an important component to rebuilding confidence in air travel. As we begin to see more passenger traffic return, we are pleased to offer a new way for our customers to enjoy a premium shopping experience at T4. We look forward to more of our retail partners joining this new platform as well."
Wassim Saadé, Founder and CEO of Inflyter, also commented: "As consumers intend to continue their online shopping behaviour post-pandemic, we are delighted to have partnered with JFKIAT to deliver an e-commerce platform that will offer passengers the convenience of being able to shop duty free online whenever they want, and not just at the airport. What is of particular significance is that this digital marketplace will showcase multiple retailers enabling JFKIAT to pioneer one of the first fully integrated, online and offline premium shopping experiences in the United States."
"At DFS, we continually seek to offer our travelling customers a first-class shopping experience," added Martin Mathews, Managing Director of DFS North America. "With the Inflyter app and e-commerce site, our customers now have another way to enjoy exclusive, local and limited-edition products that can only be found at DFS."
The new e-commerce offering is JFKIAT's latest move to enable a contactless customer experience. In 2019, JFKIAT launched AtYourGate at T4, giving customers the ability to order food and beverages on the AtYourGate app and have items delivered to their gate. With the launch of the digital marketplace, JFKIAT also plans to expand the offering to include other retailers within T4 to provide customers with a wider range of products to shop.