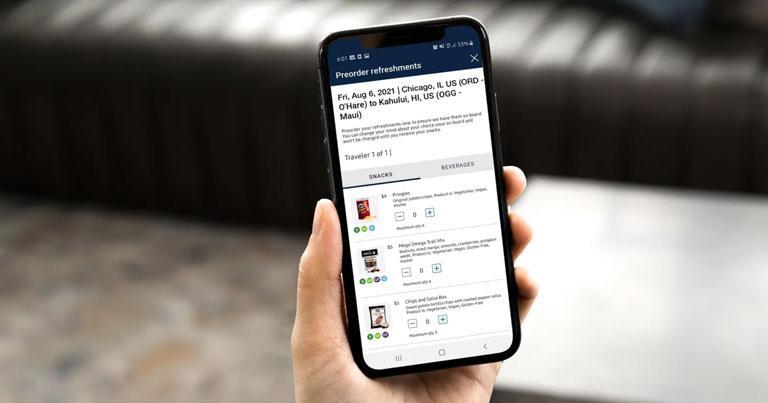 United Airlines has launched a new pre-order service for inflight food and drinks, which can be accessed through the carrier's mobile app and website. The new service is available for all passengers and can be booked up to five days before their flight.
United's pre-order technology is an extension of the airline's contactless payment platform that allows customers to store payment information in a digital wallet. The pre-order option is now available on select flights departing from Chicago to Orange County, Sacramento and San Diego, and will expand to all flights over 1,500 miles by early fall.
Toby Enqvist, Chief Customer Officer, United, said: "Our new pre-order option reflects the customer experience transformation taking place at United – customers in our economy cabins will have an easy, convenient way to choose their snack or drink, and our flight attendants can move through the cabin faster, delivering more personalised service. This new feature also builds on our existing contactless payment technology, which has enabled us to safely resume our inflight food and beverage programme on select flights."
Five days prior to departure, customers will see an option in the Reservation Details section of the United app or on United.com to pre-order food and beverage items available for their specific flight. Customers will also receive an email notifying them when pre-order is available. Customers in economy class can pre-order snacks and beverages from United's buy-on-board menu. They will be asked to enter their credit card information but will not be charged until the items are served to them onboard.
Customers in premium class can select their meal option directly from the United app or website. Once they make their selection, they will get a receipt emailed to them.
For travellers looking to purchase drinks and snack items while onboard, United's contactless payment platform allows them to store their payment information in a digital wallet on the United app and on United.com prior to departure.