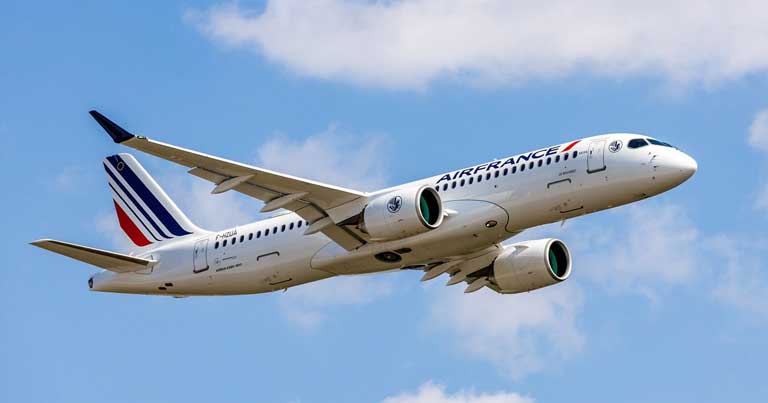 Air France has received its first A220-300 aircraft, which will be used on the airline's short and medium-haul network. A total of 60 A220-300s, which were ordered in 2019, will be integrated by 2025 to gradually replace Air France's A318s and A319s as well as several A320s.
The new fleet is expected to bring greater comfort for passengers and lower emissions, consuming 20% less fuel than the aircraft it replaces, as well as reducing CO2 emissions by 20%.
The Air France A220-300 cabin has 148 seats, in a 3-2 seat configuration (5 seats across) offering 80% of customers a window or aisle seat. It offers two travel cabins, Business and Economy, and access to Air France Connect, the airline's inflight Wi-Fi service.
The 48cm seat is the widest on the market. It reclines to 118 degrees and has an adjustable headrest, leather upholstery and an ergonomic seat cushion for enhanced comfort. Additional features include a wide solid tray table, cup holder, a pouch for storing magazines and books, individual USB A and C ports and tablet or smartphone holder integrated into the backrest.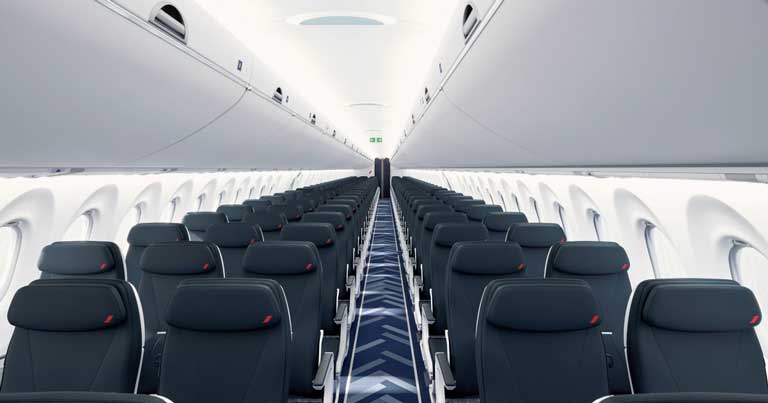 The cabin also features large panoramic windows, up to 20% more overhead stowage space per passenger, and specially-adapted cabin mood lighting settings.
Moreover, the air in the cabin is renewed every 3 minutes thanks to a HEPA (High Efficiency Particulate Air)-type filter air recycling system that eliminates 99.9% of particles and viruses.
Benjamin Smith, CEO of Air France-KLM, said: "This new aircraft with an unparalleled energy performance represents a major asset for Air France. To date, fleet renewal is the main source of reducing CO2 emissions, and this is why we are continuing to invest in latest-generation aircraft. We are also activating all the levers at our disposal such as sustainable fuels or eco-piloting, as part of our contribution to promoting a carbon-neutral air transport industry and positioning ourselves as a leading player of a more sustainable aviation."
Anne Rigail, CEO of Air France, added: "The arrival of a new aircraft is always a special occasion for an airline. All the Air France teams have spent over two years preparing for this moment and we are excited to see our customers discover the optimal comfort offered by this aircraft. The cabin is more spacious, brighter, and offers full Wi-Fi-connectivity, further contributing to the upmarket positioning of our offer."
The Airbus A220-300 will start operations on 31 October with flights to Berlin, Barcelona, Madrid, Milan-Linate and Venice from the Air France hub at Paris-Charles de Gaulle. During the 2021-2022 winter season, the aircraft will gradually extend its network to Bologna, Rome, Lisbon and Copenhagen.