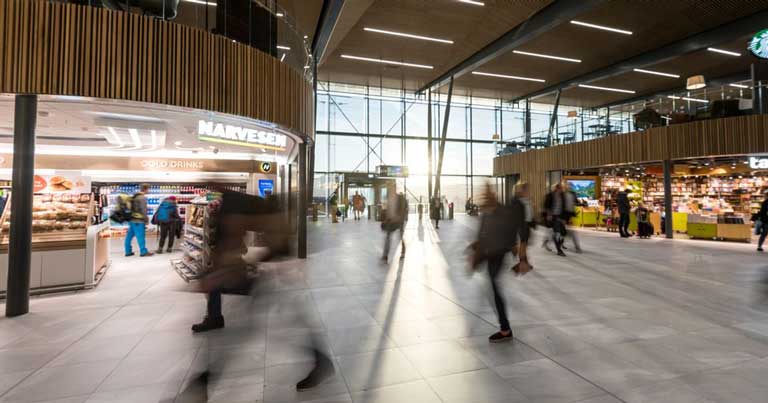 Avinor has issued a call for tender submissions covering retail and food & beverage outlets across four major Norwegian airports, including Oslo, Bergen, Stavanger and Trondheim.
A total of 38 contracts have been announced and cover everything from convenience, F&B, book stores and pharmacies to souvenir and electrical shops, as well as lifestyle and fashion boutiques.
This is the first time Avinor has announced such a wide-ranging portfolio of contracts across its airports at the same time. Smaller operators may bid for individual outlets, while major national and international operators have the opportunity to bid on multiple contracts in order to achieve economies of scale.
Avinor said it aims to attract a wide range of operators that will appeal to both Norwegian and international passengers, and which will strengthen the airports' unique sense of place, while creating inspiring and sustainable concepts that can elevate the passenger experience.
The five-year contracts have been designed to increase attractiveness to potential bidders with features including the removal of fixed rents on retail premises, and the implementation of exclusively turnover-based rent and operating costs.
"During normal operations, Avinor's airports are among the largest and most attractive marketplaces in Norway, with a broad and diverse group of customers with strong purchasing power," says Joachim Lupnaav Johnsen, Avinor's Executive Vice President Commercial.
"We aim to create a wider selection of concepts at each airport and across our portfolio of sites, and we want to strengthen the regional sense of place. For example, we want it to be obvious that you have arrived in Bergen – rather than just any other European airport. We want there to be a good balance between the global and the local providers, and we thereby hope to see new, interesting constellations as a result."
The majority of the contracts will go into operation in 2023, starting 1 January 2023, ending 31 December 2027. The deadline for tender submission is 8 March, 2022.
FTE launches World Airport Retailing Summit to drive disruption in airport commercial approaches

Future Travel Experience is excited to launch the new FTE World Airport Retailing Summit (WAR) – the most adventurous and energetic airport retail convention ever, and crucially, one that puts technology at the heart of the airport retail proposition. This event is co-located with FTE Ancillary – the world's leading gathering of commercial airline executives, so for the first time ever we will bring together under one roof executives representing every type of industry stakeholder globally to help establish creative new ways of working together collaboratively to create more revenues for all to share in. Following the pandemic the time is right to bring the world's airports, and their partners, together to share best practice, new ideas and knowledge on scaling disruptive new approaches that drive new levels of conversion with passengers through digital means. Visit the new show website to find out more about our plans >>