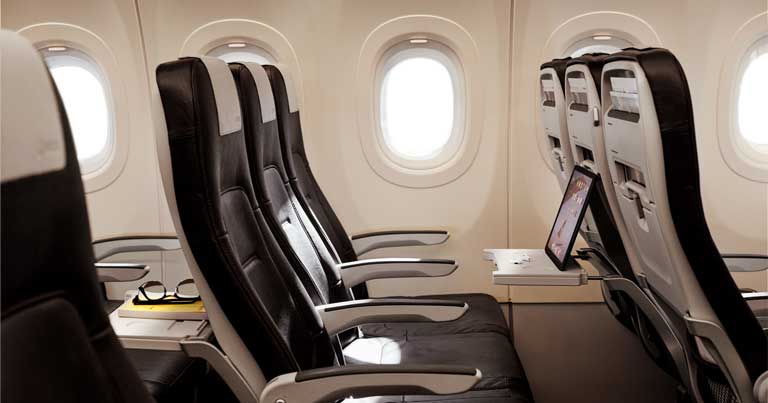 Swiss International Airlines (SWISS) has announced that it is adopting Airbus' Airspace cabin concept for its fleet of A320neo family aircraft.
The new cabin features substantially larger overhead bins, an advanced lighting system that can be aligned to human biorhythms and enhanced seating comfort. The first two SWISS Airbus A320neos equipped with the new Airspace cabin will enter service this month.
"As a premium air carrier, we continue to strive to offer our customers the highest possible quality standards, even in the present crisis times," explains SWISS Chief Commercial Officer Tamur Goudarzi Pour. "And Airbus' advanced and innovative new Airspace cabin concept for our short-haul travellers is making a key contribution to all these endeavours. We are truly pleased to be able to offer our customers even greater inflight comfort, in the form of more space for their carry-on baggage and a new lighting concept that is specifically tailored to their biorhythm needs."
The first SWISS Airbus A320neo equipped with the new Airspace cabin was delivered at the beginning of this month. Aircraft HB-JDD has been named 'Elm' after the Swiss alpine village which is home to the 'SWISS Altitude 1150' mineral water that the airline serves on board. HB-JDE, a further Airbus A320neo which was delivered a few days later and which bears the name 'Mürren', is also equipped with the advanced new Airspace cabin.
The aircraft will be deployed throughout SWISS's European route network.
SWISS has now taken delivery of five new Airbus A320neo and two new Airbus A321neo aircraft. The remaining 18 Airbus A32Xneos on order – twelve A320neos and six A321neos – will join the SWISS fleet between now and 2025. The 'neos' (which stands for new engine option) are replacing older SWISS aircraft of the Airbus A320 family and, with their innovative and more fuel-efficient engines, are helping to substantially further enhance SWISS's environmental credentials.