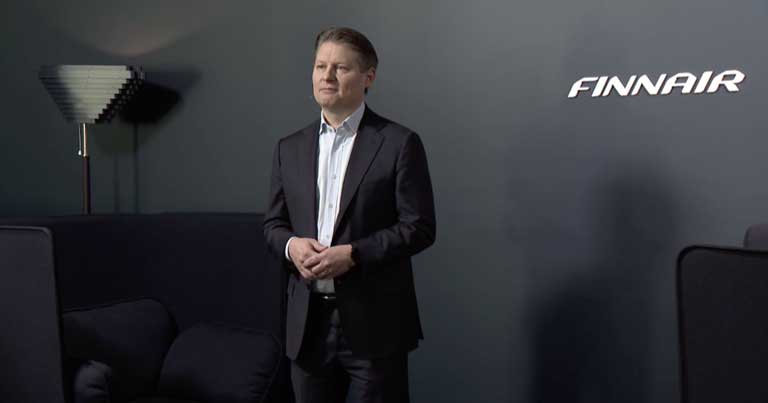 During a virtual press conference attended by FTE, Finnair unveiled the airline's new long-haul look with a brand-new Business Class and Premium Economy cabins as part of a major investment to enhance the customer experience.
The €200 million cabin renewal investment covers all Finnair Airbus A350 and A330 long-haul aircraft, with new cabins to be fitted over the next two years, featuring an entirely new Business Class, a brand-new Premium Economy cabin, and a refreshed Economy Class.
The full experience, complete with renewed service concepts, will be available in spring 2022 on selected routes across Finnair's long-haul network. While the exact routes will be announced at the sales start on March 1, 2022, during the event Finnair's CEO Topi Manner alluded that the new cabin will be available on Asian destinations.
"Our investment to enhance the long-haul customer experience demonstrates the continuing commitment of the whole Finnair team to deliver a premium experience in every cabin on our aircraft," Manner said. "The pandemic has had a dramatic impact on our industry, but it has not changed our ambition to offer a modern premium experience as we continue to be the first choice for travellers connecting Europe and Asia."
Innovative Business Class seating concept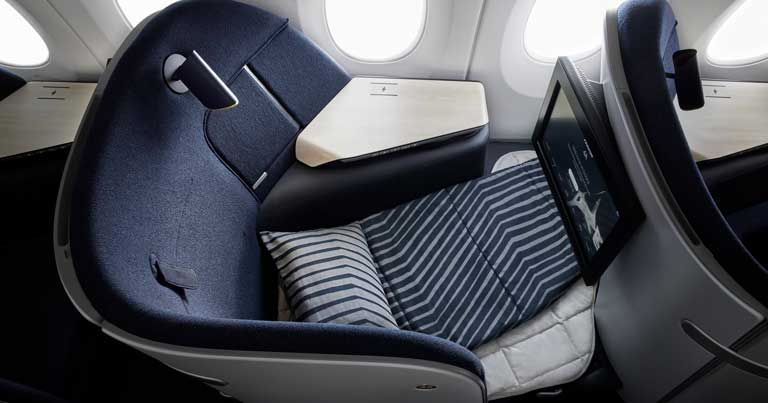 Finnair is the launch customer for a brand-new concept in Business Class seats, developed in close collaboration with Collins Aerospace, designed to maximise space and comfort.
Presenting the new concept during the event was David Kondo, Head of Customer Experience Product Design, Finnair, who pointed out that the new AirLounge is not a traditional aircraft seat but takes inspiration from lounge furniture. He explained: "We wanted to rethink business class and create more of a residential environment, emulating the comfort you would expect at home. By doing away with complicated seat mechanisms and using 3D curved shells, we're able to provide a larger flexible living space. This allows you to move more freely and take up different positions that traditional aircraft seats do not allow."
Indeed, what makes the seat unique is that it doesn't recline, and instead the innovative fixed contoured shell enables a wide variety of sitting and sleeping positions. A mattress and duvet turn the space into a comfortable bed, and passengers can use the cushy pillows to relax in a variety of sitting positions. The high cocoon like shell of the seat provides privacy, while the divider between central seats can be lowered when travelling with a companion.
The seat concept was originally conceived by PriestmanGoode of London and then further developed by Collins Aerospace, with customisation and final design execution by Finnair and its appointed design partner, Tangerine.
"The collaborative partnership with Finnair enabled the launch of this innovative seat and helped bring a truly unique cabin concept to life," said Mark Vaughan, Vice President and General Manager of Interiors Seating for Collins Aerospace. "I truly believe that together we have set a new bar for passenger comfort and the travel experience."
Moreover, the lighting options in the seat allow for tailoring the ambiance based on the customer's preferences. Along with a customised lamp that doubles as a reading light, a do not disturb light is included if total privacy is desired.
The in-seat lighting complements new cabin mood lighting designed in partnership with Jetlite to combat the effects of jetlag. The design scheme is inspired by Nordic nature, complete with the northern lights as the cabin is dimmed for sleep.
The seat also includes various storage options with space for personal items, laptop, pillows and blankets. Each seat comes with impressive connectivity, including USB A, USB C, PC power, and wireless mobile charging. All of Finnair's long-haul aircraft are also equipped with internet connectivity. Meanwhile, the IFE system comes with a new more user-friendly, customised interface and a wider 18-inch screen.
New Premium Economy product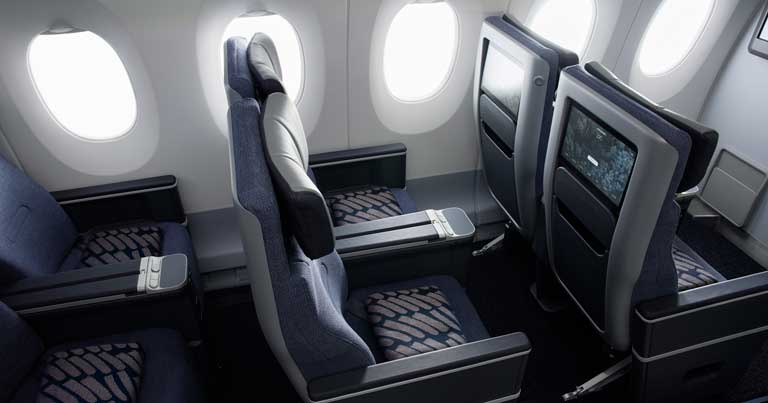 The new Premium Economy cabin will offer a comfortable seating choice that provides approximately 50% more space than Economy Class. The new cabin class is situated in its own intimate and dedicated cabin with a maximum of just 26 passengers per aircraft.
The new Premium Economy seat has been optimised for enhanced comfort and ergonomics, featuring memory foam cushions, a deep 8" recline, waterfall leg rest and six-way headrest. Dedicated stowage for laptops and small personal items is incorporated to the design so that customers have everything they need at their fingertips throughout their flight. Moreover, Premium Economy passengers will also receive a neck pillow and woven blanket for enhanced comfort.
The seat also features a large and sturdy single leaf meal tray for work and dining, as well as individual reading lights. Customers can keep their devices charged with universal PC power and USB-A ports. Each seat features a redesigned in-flight entertainment system with 13" wide screens with blockbuster movies and popular TV shows.
Finnair is the launch customer of the "Vector™ Premium" seat, which is manufactured by HAECO. The seat has been heavily customised to Finnair's exacting specifications and designed in partnership with London-based design agency Tangerine.
Premium Economy customers can enjoy two meal services as well as a selection of drinks throughout the flight. A three-course meal will be served on new chinaware designed exclusively for Finnair by top Finnish designer Harri Koskinen and Finnish design icon, Iittala. There is also a light meal service just before landing.
Ole Orvér, Finnair Chief Commercial Officer, said: "The trend for premium travel has significantly accelerated during the pandemic, so we are confident our new Premium Economy travel class will prove very popular with customers looking for an upgraded experience from Economy."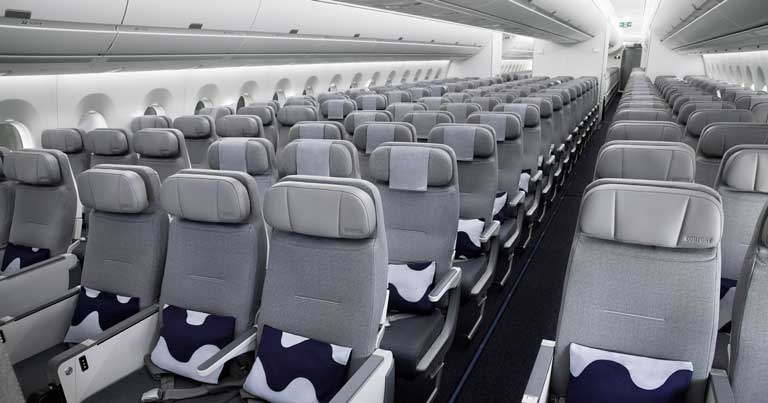 Finnair has also invested in a refresh of its long-haul Economy Class to provide customers with a more restful ambiance for their long-haul flight. New lighter seats for Finnair's A330 aircraft and three new A350 aircraft will offer enhanced ergonomics, personal stowage options, USB A & C connectivity and a larger inflight entertainment (IFE) screen with an updated user interface. The makeover of Finnair's A350 aircraft in service currently will see their Economy cabins receive new seat covers and an updated IFE user experience to bring them in line with the designs of the new Business and Premium Economy cabins.
Long-haul flights are key to Finnair's strategy, with the Finnish carrier specialising in connecting Europe and Asia via the short, fuel-efficient northern route, as well as offering excellent connections to the USA.
In summer 2022, Finnair plans to serve nearly 100 destinations in Europe, Asia and the US including new long-haul routes to Busan in South Korea, Tokyo Haneda in Japan as well as Dallas and Seattle in the US.
Finnair's CEO Topi Manner highlighted that the new cabin experience comes at the perfect time, as the carrier is gradually coming out of the COVID-19 pandemic.