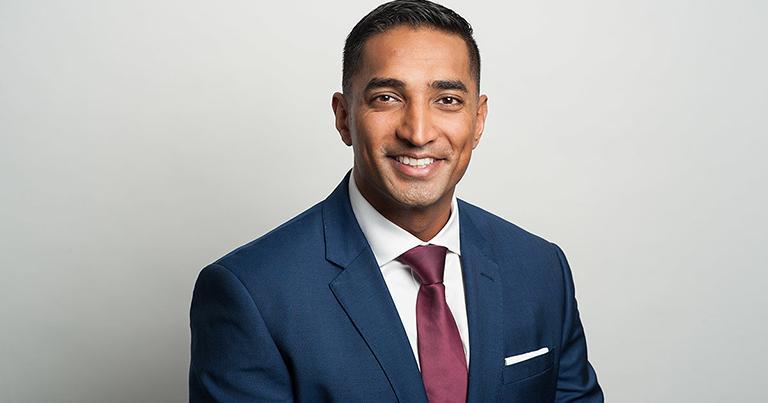 Vantage Airport Group sees innovation as a process and a key part of all operations, especially in commercial. As an investor, developer and manager of airports around the world, Vantage has a comprehensive understanding of the end-to-end passenger journey.
It has continued to reimagine the travel journey amid the new realities of COVID-19. "Whether we like it or not, times of crisis create the best opportunities and for Vantage's commercial programme there have been opportunities for us to flex our innovation muscle," says Sammy Patel, Vice President Commercial, Vantage Airport Group & Chief Executive Officer, Midway Partnership. "It is important to involve all stakeholders in the travel journey from check-in and security to the food & beverage and retail offerings. As part of our concession programme customer experience priorities, we are constantly looking at ways to de-stress our customers."
When the pandemic hit, Vantage immediately accelerated and expanded its contactless options, including self-service kiosks combined with mobile ordering, pick up, and delivery. "A lot more information became available to our passengers on their mobile devices, putting them in control of their journey," Patel explains. "We quickly developed partnerships to expand on providing a seamless passenger journey, driving sales and increasing spend across the commercial offerings."
At Larnaka International Airport, for example, Vantage expanded its 'Shop & Collect' and 'Home Delivery' initiative. Items can be picked up before flying or delivered to the traveller's home upon their return. The Vantage team worked hand-in-hand with retail partner Cyprus Duty Free to expand the range of products available. Meanwhile, in Chicago, Midway Partnership opened one of the first airport stores to feature Amazon Just Walk Out technology.
"We all know, more so now than ever, that consumer behaviours and trends change, and the concession programme needs to adapt to stay relevant," says Patel. "We had this in mind as we programmed out the concession offerings at LaGuardia Terminal B, and we plan to consider future changes to remain relevant to the customer. We have created ample space and areas to continue to keep the programme new, fresh and surprising for the high percentage of frequent travellers through New York's LaGuardia. We don't want the concession programme to become stale, and the partnership we have with our F&B and retail partners has really helped to bring that to life."
LaGuardia Terminal B: "a truly innovative approach to the commercial experience"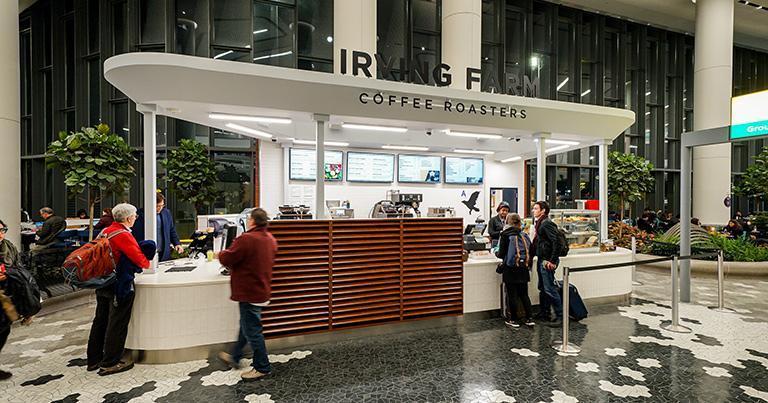 At New York's LaGuardia Airport, Vantage has worked with the Port Authority of New York and New Jersey to lead the $5.1 billion redevelopment of Terminal B. It is the largest transportation infrastructure project in US history.
"Early in the process, our team evaluated every aspect of the project, developing a bold alternative concept and taking a truly innovative approach across all facets, from design and construction to the commercial experience," Patel comments.
The new terminal is architecturally striking and now provides an entirely reimagined passenger experience. To reinvent the commercial experience at Terminal B, Vantage doubled the space to 103,000 sq ft. It studied analytics to understand the types of traveller using the terminal, and their preferred choices, in order to build "a world-class concessions programme".
The LaGuardia commercial offerings are centred on redefining what it is like to travel through a North American airport. Patel explains that this project has given Vantage the opportunity to truly integrate sense of place, while also engaging with the way passengers feel and move within the terminal. "Ultimately, utilising our strength and our partnerships, we have created an exceptional programme and delivered on what we said we would since day one to create an airport Americans and New Yorkers could be proud of."
The expansive airside Commercial District on Level 4 of Terminal B's Arrivals & Departures Hall offers a New York-centric shopping experience with an intuitive walkthrough design. "Inspired by some of the best retail concepts around the world, including New York, the stores-within-a-store concept also allows for the rotation of products to maximise sales, while ensuring ease of access through the commercial space," says Patel.
Vantage worked with commercial partners including Marshall Retail Group/WHSmith, Hudson/Dufry, SSP America, and HMSHost to entirely transform the customer experience. A strong emphasis has been placed on New York-inspired brands, with a balanced portfolio of internationally recognised brands. Iconic New York favourites include Shake Shack, Irving Farm Coffee Roasters, and FAO Schwarz toy store.
"The programme is quite eclectic with a sizeable footprint," Patel explains. "The methodologies remain the same: understand the passengers who will use the airport to and from NY and what do they want to see, smell, and taste to drive the dynamic components of the food and shopping in our programme. Part of our planning involves celebrating the vibrancy of NY, the local, national, and global brands, concepts, and products. It was important for us to represent and reflect the local, as well as push the global representation for domestic and international passengers."
In March, the Port Authority announced the highest customer service ratings to date at its airports, including LaGuardia's new Terminal B. Indeed, Patel reports that initial sales volumes and engagement in the commercial areas have exceeded expectations.
Contactless ordering and gate delivery, digital wayfinding, and concierges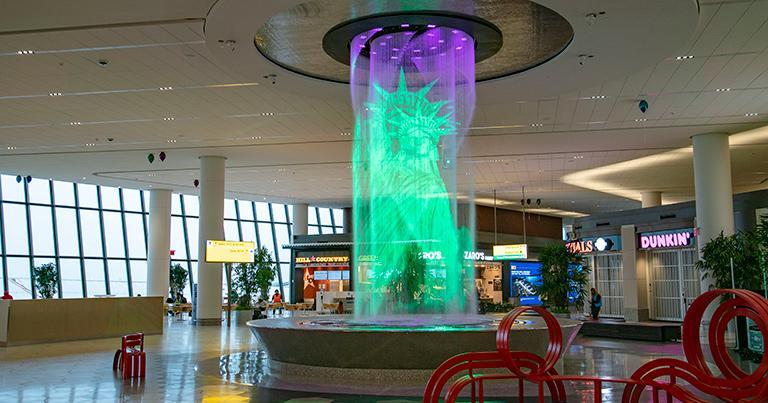 As customer tastes evolve, concession options and experiences must also continually move forward. New technologies are enhancing how passengers can engage with the commercial offer, and it is essential to stay at the forefront of technological innovation.
"In our experience, passengers increasingly want to use their own technology at airports," says Patel. "Our job is to make the airport travel experience seamless as customers access our retail and food & beverage offerings. At Vantage, we have a number of technology initiatives that we have implemented at LaGuardia along with our concession partners. We take a unique approach in our partnerships with a more human, customer-first approach."
A key element of the commercial strategy at LaGuardia is the use of a virtual queuing platform and the ability to pre-order and pre-book. Vantage is currently looking at pre-booking for TSA slots and additional commercial opportunities for revenue streams. "The more efficiently we can get passengers through check-in and security screening the better, as it increases their dwell time in the commercial areas. Innovative Flight Information Display Systems communicate to passengers the amount of time they have to get to their gate, which drives increased dwell time in commercial areas."
The customer experience at LaGuardia's Terminal B has been further enhanced with passenger-friendly technologies including easy contactless ordering and gate delivery from personal mobile devices, digital wayfinding, and concierges equipped with tablets to assist passengers in real-time with finding options nearest their gate for eating and shopping.
Midway's Hudson Nonstop store with Amazon Just Walk Out technology performs "beyond expectations"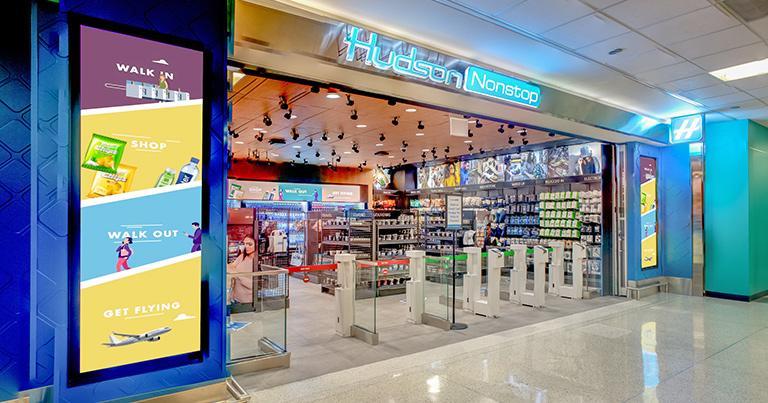 The Hudson Nonstop store, featuring Amazon's Just Walk Out technology, is an example of the innovation similarly taking place at Chicago Midway International Airport.
"It has performed beyond our expectations and Hudson has been very collaborative," says Patel. "The Hudson Nonstop is located in one of the busiest areas of the airport and offers passengers a more convenient and contactless shopping experience by using technology. While this is new to some customers, many travellers are already familiar with the technology and are excited to see it available to them during their travels."
Midway Partnership, a joint venture between Vantage Airport Group, SSP America, and Hudson Group, is about halfway through the airport's $75 million dining and retail transformation. "Our operators are really receptive to looking for new technologies to support operations, including self-order kiosks to speed up transactions at peak periods, revisiting how information is presented, and keeping our concepts relevant and fresh," Patel explains. "We completed the first phase of the Central Market right at the beginning of COVID and are looking forward to continuing with this work, including an all-access airport lounge, a new food hall, and reimagined retail concept, taking into account the ever-changing retail landscape."
FTE World Airport Retailing Summit: "driving industry growth, change and revenues"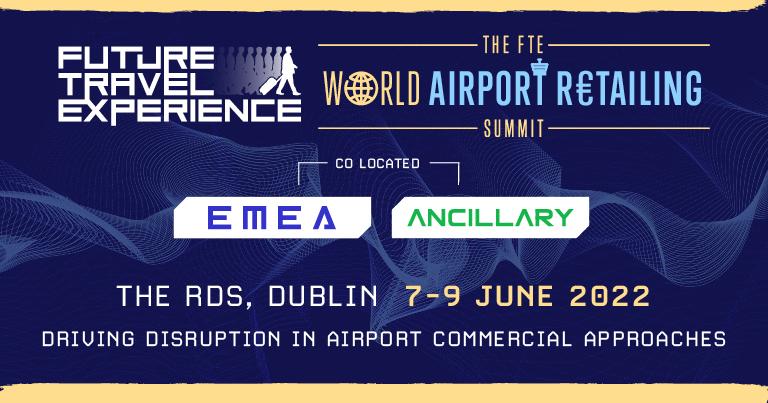 Patel is also a member of the Advisory Board for FTE's World Airport Retailing Summit. "I was excited to work with the FTE team, and the Advisory Board, and be part of the planning for this progressive conference and exhibition covering such a deep and informative range of topics from incredible leaders around the globe," he adds. "There are so many innovative and new ways of business that will be shared at this summit, and by providing shared learnings we can all ultimately grow our business practices, drive industry growth and change, and hopefully revenues."