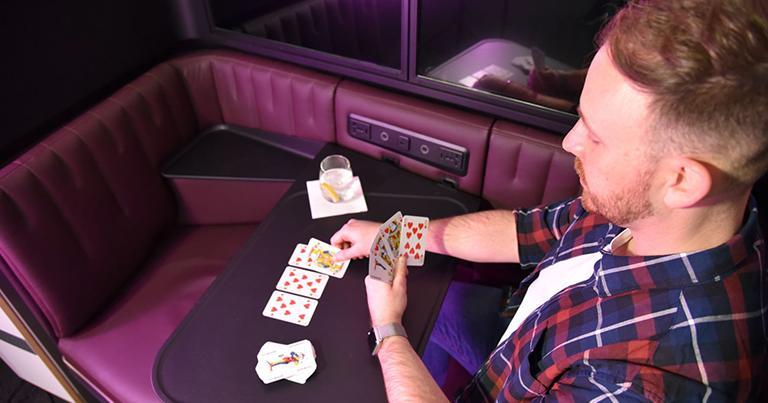 Virgin Atlantic has unveiled new experiences exclusively available on its A350s, which have been designed specifically with leisure passengers in mind. Travellers on the London Heathrow to Orlando route are the first to benefit from the enhancements.
'The Booth' is the latest innovation in the airline's social spaces. Located in the Upper Class cabin, 'The Booth' aspires to create a cosy corner with lounge style seating. Experiences include private dining, and wine and cognac tasting.
The wine tasting experience will see drinks by The Uncommon – the UK's number one producer of wine in a can – debut onboard Virgin Atlantic. Travellers in 'The Booth' will be able to sample a selection of three wines, including an English white and rosé, alongside a lighter spritzer.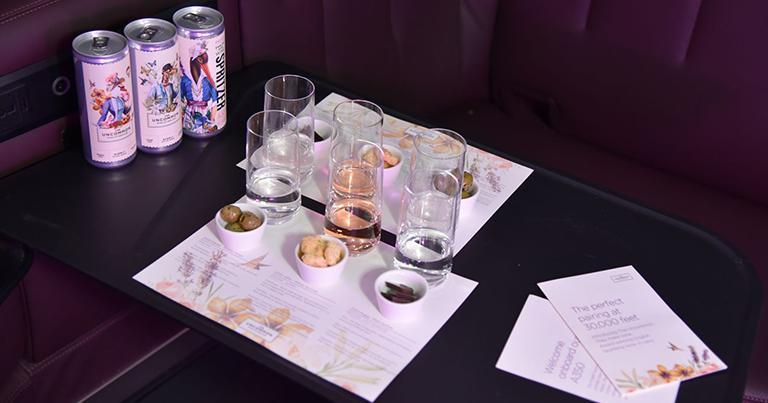 Meanwhile, a cognac tasting experience with chocolate pairings courtesy of Delamain is also available. Every customer taking part in the experience will receive a tasting glass to keep as a memento.
Further experiences in 'The Booth' include 'Dinner for Two' private dining and 'Game Time' featuring exclusive Virgin Atlantic playing cards.
"We always strive to create brilliantly different experiences for our customers and the introduction of 'The Booth' demonstrates this perfectly," said Corneel Koster, Chief Customer and Operations Officer, Virgin Atlantic. "We're famous for our onboard social spaces and 'The Booth' elevates the customer proposition for our leisure travellers to new heights. Whether that's sampling the leading English wines from The Uncommon, sipping Delamain's signature cognac or simply enjoying a game of rummy at 38,000 feet, we've got something on offer to suit every one of our customers' tastes."
'The Booth' was designed collaboratively by Virgin Atlantic's in-house design team alongside London-based design agency Factorydesign.